Despite recent visits from FBI agents, more than a dozen people affiliated with a Lawrence anarchist group are planning to go to New York to protest the Republican National Convention.
"I think the group that's going believes that protest against Republicans and Democrats are just as important collectively," said Dave Strano, a local anarchist. "They both should be massively protested."
Before the Democratic National Convention last month in Boston, FBI agents went door-to-door in Lawrence to question anarchists, their friends and family members. Anarchists say it was harassment and an intimidation tactic; FBI officials said it was part of a legitimate investigation stemming from a tip that a group was planning to firebomb media vehicles in Boston.
Keeping quiet
Jeff Lanza, an FBI spokesman in Kansas City, Mo., said FBI policy prohibited him from discussing whether agents planned to come back to Lawrence with the Republican convention on the horizon. The four-day convention begins Monday, and thousands of protesters are expected.
The FBI has said it has intelligence that anarchist groups are planning acts of violence similar to what occurred in 1999 at the World Trade Organization conference in Seattle, where windows were shattered and more than 400 people were arrested.
Strano said he wasn't comfortable talking about when the group would leave for New York or whether he was among those going. One reason he gave is that last month three Kirksville, Mo., protesters were subpoenaed to appear before a federal grand jury on the last day of the Democratic convention -- a move Strano said seemed designed to keep them from traveling to Boston.
"We don't want to have our travel plans squashed like the Kirksville kids," he said.
Protest plans
Events planned for New York include protests at the headquarters of oil giant Chevron and a Hummer dealership, and a march on Madison Square Garden, the site of the convention. One Web site used to spread information about the protests describes Aug. 31 as a day to "turn the streets of NYC into stages of resistance and forums for debate."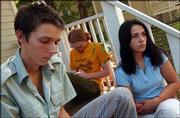 The site calls for "nonviolent civil disobedience and direct action" throughout the city. But street clashes in recent years in cities such as Seattle and Miami have police wary of anarchists and vice versa.
New York's ABC News affiliate reported last week that police in New York had identified 56 anarchists from across the country who would be watched and followed around the clock in coming days.
The trip to New York already has begun for two anarchists from San Antonio, who were passing through Lawrence on Tuesday.
"I don't believe in the system that we live in today," said Cal Brower, 17. "I believe that authority is what's wrong with the entire system we have today -- exploitation of resources, exploitation of people."
Iowa run-in
Brower and Kellie Williams, 19, came to Lawrence from an anarchist gathering in Iowa and were staying at a house near the Kansas University campus. In Iowa, they said, they had a run-in with police, who photographed them and told them the FBI had warned police the group was in town.
The pair said there was no validity to concerns anarchists are out to perpetrate violence. Their political views include opposition to capitalism and all forms of coercion.
"We wouldn't ever take the authority to harm someone," Williams said.
Brower said he planned to protest nonviolently in New York and take part in "street theater." He's especially looking forward to an event Sunday dubbed "Chaos on Broadway" designed to interrupt delegates' fun as they see the sights on the eve of the convention.
Had enough
One Lawrence anarchist who's not planning to go to New York is Chantel Guidry. Her decision is not because of the recent FBI visits, but because of a bad experience in November in Miami at a protest of a Free Trade Area of the Americas summit.
Guidry said her experience included being arrested while trying to protect a friend who was being beaten with a police baton.
"I feel like after my experiences in Miami I am not in the proper psychological frame of mind to go out to New York and be effective," she said. "I think that the best thing that people can keep in mind (is) they should get over this idea of 'Well the police can't do that.' ... They can do whatever they want. You might be able to fight it in court later or file a lawsuit later, but in the heat of the moment, the cops are going to do whatever they're going to do because they're armed to the teeth."
Copyright 2018 The Lawrence Journal-World. All rights reserved. This material may not be published, broadcast, rewritten or redistributed. We strive to uphold our values for every story published.