Kansas City, Mo. — The NFL's highest-scoring offense is averaging two touchdowns every three possessions during the preseason.
If Kansas City's woeful defense can get its act together, too, the Chiefs could be in for big things.
Trent Green hit 10 of 12 passes, and Priest Holmes averaged 5.2 yards on six carries Monday night as the first-team offense scored on two of its three possessions in a 24-7 exhibition victory over St. Louis.
The offensive starters, who led the NFL in scoring each of the past two years, also scored on two of their three possessions against the New York Giants last week in the preseason opener.
"I thought offensively we played very well," said Green, who was 10-for-12 for 94 yards. "It was good to see a good mix of run with the pass."
Adding to a bad night for the Rams (0-2) was starting cornerback Travis Fisher's season-ending injury.
Fisher, who tied for the team lead last year with four interceptions, broke his right arm in the first half. He also tied for the NFL lead with 205 yards in interception returns in 2003.
"Probably out for the year," Rams coach Mike Martz said. "He'll have to have a plate put in. He was tackling downfield, and he just wrapped his arm there, and it just fractured. That's what happens."
Holmes had 31 yards on six carries and scored on a two-yard run for a 7-0 lead in the first quarter.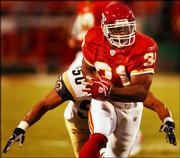 On the Chiefs' third possession, Derrick Blaylock scored on a one-yard dart around right tackle. Larry Johnson set up the TD with a 14-yard run after bumping into Green and nearly fumbling the handoff.
The Chiefs' defense, which finished 29th in the league last year and has undergone a drastic scheme change under new coordinator Gunther Cunningham, shut out the Rams' regulars and even got involved in the scoring.
Cunningham's plan to switch from the read-and-react philosophy the Chiefs had been playing to an attack mode appears to be working.
"We still have a long way to go, but it's good to see us go out there and compete like that against a quality offensive football team," defensive end Eric Hicks said. "Even if their line is decimated, they've still got a Pro Bowl quarterback, Pro Bowl running back. We did well."
With 1:07 left in the half, linebacker Shawn Barber stepped in front of Arlen Harris, intercepted Marc Bulger's pass and returned it 60 yards for the touchdown, putting the Chiefs (1-1) up 24-0.
"I was in the right place at the right time," Barber said. "We were just trying to play the whole field and be very aggressive. Sometimes you can put the quarterback in an awkward position and he thinks things are open that aren't open."
Bulger was 8-for-15 for 67 yards and got sacked three times behind the Rams' patchwork offensive line. Marshall Faulk, playing more than normal this early in the preseason, carried six times for 16 yards.
Faulk's understudy, first-round draft pick Steven Jackson of Oregon State, scored on a six-yard run with 7:29 left in the third quarter and had 126 yards on 29 carries, mostly against the Kansas City reserves.
Morten Andersen, the NFL's No. 2 career leading scorer who is locked in a battle with CFL star Lawrence Tynes, connected from 28 yards in his only field goal attempt.
Holmes, who set the NFL touchdown record last year, looked particularly sharp in the opening drives. He came out of the backfield to catch Green's pass on third down and went 11 yards in the first scoring drive. He added carries for 10, nine and two yards.
"I did a very poor job of getting this football team ready to play this preseason game," Martz said. "This was my fault. We came out here and flopped around and acted like we didn't know where we were. That won't happen again."
Notes: The Chiefs' Lyle West drew a 15-yard clipping penalty on the Rams' second punt and sustained a hamstring injury on the same play. ... Vice President Dick Cheney, in town for a campaign appearance today, sat with Chiefs owner Lamar Hunt in his box. ... Backup K.C. safety Clint Finley had an interception chance bounce right off his chest late in the third quarter. ... K.C. middle linebacker Kawika Mitchell left in the second half with an ankle sprain. ... Second-year man Kevin Garrett replaced Fisher. ... With severe weather, including tornadoes and heavy rain headed in, the crowd thinned considerably midway through the fourth period.
Copyright 2018 The Associated Press. All rights reserved. This material may not be published, broadcast, rewritten or redistributed. We strive to uphold our values for every story published.