Kansas City, Mo. — Calvin Pickering has only nine major-league RBIs in the last three years.
Another way to look at it is, Pickering has nine RBIs in two games. So what that they came so far apart.
The frustrated minor-league veteran homered twice and drove in six runs Sunday in Kansas City's 10-2 victory over Texas.
Since hitting a three-run home run for Boston against Baltimore in his final at-bat of 2001, Pickering sat out all of the 2002 season because of a torn quadriceps muscle and spent the better part of the next two years working his way through the minors.
But after hitting 35 home runs for Triple-A Omaha this season, he was finally called up this weekend to replace injured Ken Harvey.
"You never know what can happen -- one time you're healthy, and all of a sudden something out of the blue happens," the 6-foot-5, 260-pound designated hitter said. "I've been through it all. I'm just happy to be here now."
Zack Greinke pitched six shutout innings for the victory, and the Royals snapped Texas' eight-game winning streak.
"We got pickled today," Texas manager Buck Showalter said.
Pickering walked in his first plate appearance. Then he drove a 3-2 pitch from Scott Erickson over the fence in left field with one out in the third for his first career grand slam.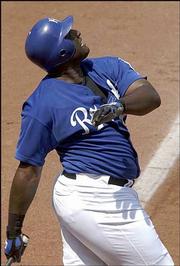 In the fifth, he pounded Joaquin Benoit's first pitch 440 feet over the wall in straightaway center for a two-run shot. He lined out to second his next time up.
Pickering had the misfortune of being a DH and first baseman, the only two positions where the last-place Royals have any depth.
"We didn't want him to come up and stay on the bench," Royals manager Tony Pena said. "Where were we going to play him?"
Coming into Sunday, Pickering had played in 883 minor league games and 53 in the majors since being drafted in the 35th round in 1995 by Baltimore. Seeing action with the Orioles, Cincinnati and Boston, he had six home runs.
"Sometimes it got a little (frustrating)," he said. "But I just said so be it. If it's meant for me to be there, I'm going to be there. I feel if I give it 100 percent and not waste any at-bats, then a lot of stuff will happen good."
Greinke (6-9) won for the fourth time in five starts, giving up six hits and two walks with four strikeouts. He was relieved by Dennys Reyes starting the seventh.
He said he changed his approach after he was given a 9-0 lead in the fifth.
"I was like, 'Just throw it over the plate.' And once I started doing that, I couldn't throw it over the plate," he said.
Erickson (1-3), who beat Cleveland in his previous start for his first major league win since 2002, lasted just three innings. He was charged with five runs on four hits and six walks.
David DeJesus tripled to lead off the Royals' third and scored on Ruben Gotay's sacrifice fly. After Joe Randa singled, Erickson walked Matt Stairs and Abraham Nunez before Pickering connected on a 3-2 pitch for his opposite-field shot.
"He got hold of one that flattened out," Erickson said. "You're one pitch away. But one pitch can doom you, too. When you load the bases for the other team without making them earn it, you make it tough on yourself."
Andres Blanco had an RBI single for the Royals in the fifth, and DeJesus had a sacrifice fly. Desi Relaford had an RBI double in the seventh.
Reyes balked home a run and gave up an RBI single to Gary Matthews Jr. in the eighth.
Notes: Kansas City 1B Mike Sweeney was out of the lineup because of stiffness in the upper back. ... The addition of Pickering brought the number of players used by the Royals to a team-record 54. But it's not only players who are going down. The public address system stopped working this week, forcing club employees and official scorers to shout their announcements. ... The Rangers had two nine-game winning streaks in 1999. ... The eight-game streak matched Texas' third-longest. ... DeJesus left the game with a bruised left knee after being hit by Benoit in the fourth. ... Three of the Royals' last six home runs have been grand slams.
Copyright 2018 The Associated Press. All rights reserved. This material may not be published, broadcast, rewritten or redistributed. We strive to uphold our values for every story published.