Tehran, Iran — Iran said Sunday that it planned to build a second nuclear reactor with Russia's help and that at least two other European states had expressed interest in such a project, brushing aside U.S. accusations that the Islamic state wants to build atomic weapons.
Russia is building Iran's first nuclear reactor, which was begun by West Germany but interrupted during the 1979 Islamic revolution. Damage caused to the nearly completed facility in Bushehr during Iran's 1980-88 war with Iraq also led to the postponement of its planned inauguration from 2003 to August 2006.
Despite the delays and the project's $800 million cost, Iranian nuclear officials say they want Russia to build more nuclear reactors to help make greater amounts of electricity.
The comments Sunday reflect Iran's determination to push ahead with its nuclear program despite U.S. and international concerns that it seeks to develop nuclear weapons.
The United States has been lobbying for the International Atomic Energy Agency to refer Iran's nuclear dossier to the Security Council, which could impose sanctions. Tehran denies seeking to develop weapons.
Asadollah Sabouri, deputy head of the Atomic Energy Organization of Iran, did not say when construction might begin but insisted Russia was obligated to build more than one nuclear reactor under a 1992 agreement between the two countries.
"We have contracts with Russia to build more nuclear reactors. No number has been specified, but definitely our contract with Russia is to build more than one nuclear power plant," Sabouri said, adding that Tehran has carried out several studies and technical reports for the construction of new facilities.
Despite U.S. pressure, Russia has been reluctant to abandon the nuclear reactor refit project at Bushehr, a coastal town in southern Iran.
The spokesman for Russia's Federal Atomic Energy Agency, Nikolai Shingaryov, told The Associated Press by telephone that he was unaware of contracts for Russia to help build any more reactors. He said the two countries had held discussions on building a second one, as called for in the 1992 agreement, but an actual contract would be needed to begin construction.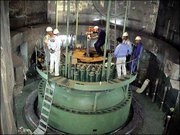 Sabouri said later that Russia would build a second reactor in Bushehr and that Iran was studying other sites here for more possible reactors. Most areas in Iran are prone to earthquakes, restricting choices for setting up nuclear facilities.
He also said at least two European countries had expressed interest in the projects, but refused to name them.
"They have given us documents expressing their readiness to join the projects. We welcome them. My message to the Europeans is that we have to pass the paperwork stage and go for binding contracts as soon as possible," he said.
Iran insists it is only pursuing nuclear technology to produce electricity.
"By 2021, Iran's electricity consumption will reach 56,000 megawatts and we need to have capability to produce 70,000 megawatts of electricity. Some 7,000 megawatts, about 10 percent, will be met through nuclear power plants," Sabouri said.
Copyright 2018 The Associated Press. All rights reserved. This material may not be published, broadcast, rewritten or redistributed. We strive to uphold our values for every story published.