You can phrase the question any way you want.
Ask Charles Gordon whether he would rather play receiver or cornerback. Does he enjoy one position more than the other? Is he clearly better at either one?
Gordon's answer always will be the same.
"I just want to win," Gordon said recently -- several times.
Gordon wants to win, and so does Kansas University football coach Mark Mangino.
Mangino has said that Gordon is a better receiver than corner, but the Jayhawks need him more in the secondary.
"He will play some offense, not a lot of plays, but he will play offense," Mangino said. "If we can solidify the corner positions, it would free him up and put him on offense most of the time, and we could spot-play him on defense.
"What we are not going to do is play him both ways. It's not fair to him. He won't be as effective a player and help our team the way he would want to. He is a talented guy, he is just one of those kids that, you know, has it. He can do a lot of things, but we have to be smart how we handle him."
During the final four games of the 2003 season, Gordon split time between offense and defense in addition to his duties as punt returner. He set KU freshman records with 57 receptions for 769 yards.
Kansas has two proven receivers in senior Brandon Rideau and junior Mark Simmons. The Jayhawks, at this point, have no such luxury in the secondary, where Gordon and junior-college transfer Theo Baines are the likely starters at corner.
Defensive players are glad to add Gordon to a unit that allowed an average of 30.5 points a game last season.
"He is an all-around great player, and we will take him," linebacker Banks Floodman said. "We are excited to have him on the defensive side right now, and he has been playing great. He is a really smart guy, so he learns all of the schemes quickly."
Gordon's ability in the classroom will be vital in his quest to join the KU baseball team in the spring. The outfielder earned a spot in the Ban Johnson League All-Star Game this summer in Kansas City.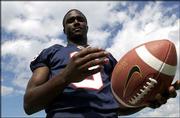 Mangino said he would give Gordon "the green light" to be a two-sport athlete if he can manage his academics while juggling baseball, spring football, offseason football workouts and maintain his health.
"I think he can," Mangino said. "He proved this summer that he could."
Gordon played baseball, took summer classes and participated in football workouts and seven-on-seven drills before preseason football camp started.
Gordon said the only real issue is his weight. The 5-foot-11 sophomore played at 170 pounds last season, and Mangino would like him to bulk up to 180 so that he will be stronger and more durable.
"If I get my weight up and maintain it, I'll be able to play in the spring," Gordon said. "I can handle it. All I have to do is manage my time well. I'm a pretty good student."
Just don't try to make Gordon choose between baseball and football -- or offense and defense for that matter.
"Everything excites me, whether it's making a big hit, returning a punt and going the distance or catching a long touchdown pass," he said. "It's all pretty much the same."
Gordon made 13 tackles and broke up a pass in his limited time in the secondary last fall. Since being thrown into the secondary late in his red-shirt freshman season, Gordon had the entire offseason to learn his new role.
"I feel pretty good out there," he said. "I know my responsibilities and know where I'm supposed to be, so I'm pretty comfortable."
Whether Gordon remains at corner ultimately will be decided by the play of KU's other corners.
"I just want to win," Gordon said again. "We'll see what happens. We'll see if other corners can step up and get the job done. They're progressing. We'll see how they do."
Copyright 2018 The Lawrence Journal-World. All rights reserved. This material may not be published, broadcast, rewritten or redistributed. We strive to uphold our values for every story published.