Crawford, Texas — Former Republican Sen. Bob Dole suggested Sunday that John Kerry apologize for past testimony before Congress about alleged atrocities during the Vietnam War and joined critics of the Democratic presidential candidate who say he received an early exit from combat for "superficial wounds."
Dole also called on Kerry to release all the records of his service in Vietnam.
Separately, President Bush's re-election campaign continued to deny links to Swift Boat Veterans for Truth, an anti-Kerry group running ads in three states, after the resignation of a campaign volunteer who appeared in the group's new ad.
With Kerry taking a break from campaigning, running mate John Edwards said Bush needed to tell the group to pull its ads, a step the White House and the Bush campaign refuse to take. The White House and Bush's campaign note that Kerry has benefited from more than $62 million worth of similar advertising against the president.
"This is the moment of truth for President Bush," Edwards said in North Carolina. "The American people have to hear directly that these ads need to come off the air." Kerry also fought back in another new ad.
Dole told CNN's "Late Edition" that he warned Kerry months ago about going "too far" and that the Democrat may have himself to blame for the current situation, in which polls show him losing support among veterans.
"One day he's saying that we were shooting civilians, cutting off their ears, cutting off their heads, throwing away his medals or his ribbons," Dole said. "The next day he's standing there, 'I want to be president because I'm a Vietnam veteran.' Maybe he should apologize to all the other 2.5 million veterans who served. He wasn't the only one in Vietnam," said Dole, whose World War II wounds left him without the use of his right arm.
Dole added: "And here's, you know, a good guy, a good friend. I respect his record. But three Purple Hearts and never bled that I know of. I mean, they're all superficial wounds. Three Purple Hearts and you're out."
Kerry defended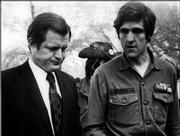 Kerry campaign spokesman Chad Clanton said: "It's unfortunate that Senator Dole is making statements that official U.S. Navy records prove false. This is partisan politics, not the truth."
Other Kerry supporters also rose to his defense.
"Senator Kerry carries shrapnel in his thigh as distinct from President Bush who carries two fillings in his teeth from his service in the Alabama National Guard, which seems to be his only time that he showed up," John Podesta, former chief of staff in the Clinton White House, said on ABC's "This Week."
Bush served stateside in the Guard during the Vietnam years. Podesta's reference was to the White House's release of documents earlier this year showing Bush's dental visits during his Guard years after questions arose about whether he had always reported for duty.
Bush-Cheney campaign manager Ken Mehlman also blamed Kerry for the ongoing debate, complaining on NBC's "Meet the Press" that "Kerry himself has attacked the president for his service during the Vietnam years," while the Republican's campaign has "so strongly praised" Kerry's tour of duty in Vietnam.
Swift Boat ties
The Bush campaign also said the Federal Election Commission should immediately dismiss what it termed a "frivolous" complaint by Kerry's campaign alleging coordination between the re-election effort and the Swift Boat group.
The White House and the Bush campaign for weeks have denied any connection to the Swift Boat organization, whose early financial support came largely from a prominent Texas businessman with longtime ties to the state's top Republicans, including Bush.
The group's latest ad includes a Bush-Cheney volunteer, retired Air Force Col. Ken Cordier, condemning Kerry's 1971 congressional testimony that Dole spoke of. Cordier was a prisoner of war during Vietnam.
"Colonel Cordier did not inform the campaign of his involvement in the advertisement," a Bush campaign statement said. "Because of his involvement Colonel Cordier will no longer participate as a volunteer for Bush-Cheney '04."
A new Kerry TV ad urged the president to "denounce the smear" and 'get back to the issues" because America deserves better." The 30-second commercial will air in the same three states as the Swift Boat group ad -- Ohio, West Virginia and Wisconsin.
Copyright 2018 The Associated Press. All rights reserved. This material may not be published, broadcast, rewritten or redistributed. We strive to uphold our values for every story published.