Oceanside, Calif. — In his talks to students, Victor Villasenor likes to ask, "Who here is a genius?"
If it's a class of kindergartners, everyone's hand shoots up, he says. If they're in second or third grade, a few are bold enough to say yes. But once they're out of elementary school, he says, there are no more geniuses.
In his new book, "Burro Genius," the acclaimed author of the 1991 book "Rain of Gold" uses his own experience as a Mexican-American child struggling with undiagnosed dyslexia to condemn an educational system he says destroys our natural genius.
"We get crushed in the first three, four years of school. And not just the Mexican kids -- everybody to a certain degree," he says.
"We're trained to become parrots. We're trained to learn information and give it back at test time. But we're not taught to think. We're not taught how to access the genius."
The damage can be most serious with students who enter the system speaking a foreign language, as Villasenor did in 1945.
Born in the San Diego County community of Carlsbad, Villasenor grew up speaking Spanish with his Mexican-born parents and extended family. As he prepares for his first day of school, his father assures him that Mexicans are well-loved by all. But in his first few moments in class, the shy boy quickly sees otherwise as he is sent to join the Mexican and black children sitting at the rear of the room, and the teacher loudly chastises Villasenor and another boy for speaking Spanish.
Her shouts of "English only!" cause the frightened boy to pee in his pants.
"At the end of the day, when my mother picks me up from school, I'm terrified," Villasenor recalls during an interview at his home in Oceanside.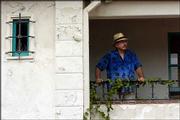 "And I don't like my mother anymore because she left me at school. And I don't trust my father anymore because he told me all people like Mexicans. And there's a wedge put between me and the school system."
Motivated by anger
The story follows Villasenor as he fights his way through school, seeing Mexican children slapped until bloody for defiantly speaking Spanish and having his own spirit beaten by teachers who simply believe him to be too stupid to learn how to read or write.
The 64-year-old Villasenor laughs when asked about the 41 years he spent writing the book, then walks out to the garage, where he unlocks a large closet to reveal stacks and boxes of unsold novels and short stories.
Villasenor began writing without any formal training, without having finished high school, without knowing that he had a form of dyslexia so severe that experts wonder how he ever learned to read (teaching himself as an adult with children's books) or even to understand the patterns of spoken language.
It was during a trip to Wyoming as a young man that Villasenor says in one moment he decided to become a writer: It was a vision in which he saw that the sea shells and Indian pottery he found on a mountainside were remnants of a civilization lost to time. He then understood that only cultures with written records can survive.
"And I realized: I've got to write the story about our people to anchor us to creation. And then no matter how much we get abused, we'll still feel special and we'll still feel good."
Villasenor began writing with fervor, a fervor that remained alit through 265 rejections before he sold his first book, "Macho!" in 1970.
But it was not determination that kept him going, he says. It was anger.
"People say I had a lot of determination. No. It's not that," he says. "I had a lot of hate.
"And if I didn't write, and I didn't submit, if I couldn't make a difference in the educational world with writing ... my first instinct was I was going to go get my gun and go kill people because I had that much anger."
He then asks a reporter invitingly, "You want to see all my guns?"
Breaking heart barriers
Villasenor's next book, a sequel to "Burro Genius" called "Crazy Loco Love" sits in a cardboard box in his house. The two are part of a trilogy, which will deal with Villasenor's childhood before school as well as the years leading up to publication of "Rain of Gold."
It is this nonfiction book, the tale of his parents' separate escapes from Mexico during the Revolution, that has been called a Latino "Roots." The story has been optioned for film and Villasenor, who has seen his works optioned before without results, is hopeful it will be made into a miniseries.
But asked which book gives him the most pride, it is not "Rain of Gold," but "Burro Genius." It is this book, released by the Rayo division of HarperCollins, that he hopes will awaken a revolution in the classroom and end the push for "English only," a position he says encourages arrogance and abuse.
English, he says, is a fine language for linear thought but not for expressions of the heart, such as the feelings children have when their Spanish-speaking mothers sing to them and nurture them.
"Why do our kids drop out? It isn't just the language barrier, it's the heart barrier," he says. "They've been crushed culturally."
Copyright 2018 The Associated Press. All rights reserved. This material may not be published, broadcast, rewritten or redistributed. We strive to uphold our values for every story published.