When Carol Huettner wants to make a fresh batch of pesto, she can go to her back yard.
Huettner grows between 60 and 70 varieties of herbs, including sage, thyme, oregano, marjoram and rosemary.
And basil -- lots of basil, a primary ingredient in making pesto sauce. She cultivates seven kinds of the herb, including Genovese, Profumatissima, cinnamon and lemon.
Huettner sells her herbs, along with fresh flowers and ornamental dried grains and grasses, Saturdays at the Lawrence Farmers Market in the 1000 block of Vermont Street.
With as much basil as she has readily available just outside her kitchen, Huettner often can be found pounding the ingredients for a basic pesto sauce with her marble mortar and pestle: fresh basil, extra virgin olive oil, garlic, Parmesan cheese and chopped nuts.
Most pesto recipes call for toasted pine nuts. Huettner is allergic to them, so she uses pecans, hazelnuts or walnuts.
"I make pesto several times a week," she says. "I like to use it as a sauce to have on hand with pasta dishes, to mix with olives or marinate cheese with, or do a marinade with meat or poultry. It's very versatile."
The sauce, which originated in Genoa, Italy, is often used to highlight crusty breads, pastas, grilled meats and poultry. But pasta is likely the favorite among these.
While a basic pesto uses fresh basil, pesto sauces also can be made with a range of herbs, anything from cilantro to mint. Some people enjoy an arugula pesto.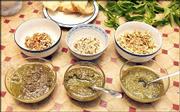 Huettner, however, is sticking with basil from her garden. It's a good way to make use of it, she said.
"It's very basic, very easy. You just have to put the ingredients in a blender and chop it up."
Highly versatile
Making pesto is a natural for Jill Elmers, who has a business called Moon on the Meadow. Elmers, who sells herbs, vegetables and flowers Saturdays at the farmers market, grows plenty of basil.
"What I like about basil, from a cooking standpoint, is you can put it in just about anything. It's used in Thai, Mexican and Italian food -- it can go almost anywhere," she says.
She likes to make large amounts at once.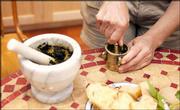 "I make it in large quantities, and then I freeze it in an ice-cube tray. It makes a nice little chunk of pesto to put in any kind of noodles or sauce. I'll probably make 12 or 14 cups (at once)," Elmers says.
"What I like about it is that it's a light, flavorful way to make a nice meal. It's not too heavy, but it's loaded with flavor. The pine nuts and the basil and the garlic -- you can't lose with that."
Betsy Faubion and Cathy Hawes, owners of Doolittle Farms, are vendors at the farmers market, too. Basil is among the variety of medicinal and culinary herbs they grow at the 80-acre farm south of the Leavenworth city limits.
Their homemade pesto is a popular item at the farmers market. An 8-ounce carton of it sells for $5. It contains fresh basil, extra virgin olive oil, pine nuts and a little salt.
"We like to keep it simple. You can put cheese in it, but we don't. Vegans appreciate not having the cheese in it, and we don't think it adds more to the flavor. It's already so rich with the pine nuts," Faubion says.
Her and Hawes like to use their pesto to make bruschetta -- crusty bread spread with the sauce, layered with tomatoes and mozzarella or Parmesan cheese and toasted in the oven.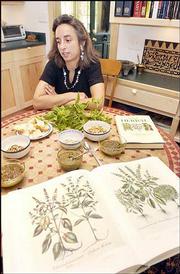 They also make pesto pizza, with a ready-made pizza shell, pesto, tomatoes, mushroom and cheese.
"Or we'll take it and toss it up with fresh pasta, Parmesan cheese and a few tomatoes to garnish it," Faubion says.
Good fresh or frozen
Debbie Taylor, of Rangeland Herbs, sells her basil for $2 per pint bag at the farmers market.
But the pesto maker in her family is son, Zeb, 15. With the help of a friend, he uses his mom's fresh basil to make his own pesto sauce which he sells at the market for $4 per container.
"It sells out just about every week. He has a real good pesto; he puts a little bit of feta cheese in it. And he uses walnuts instead of pine nuts. They're less expensive and easier to get your hands on," Taylor says.
She's a pesto fan, too.
"I made a batch this morning. I like mine real strong on the garlic, real garlicky. I used eight cloves," Taylor says.
"I like to freeze it in small jelly jars, then you just pull it out and it's ready to go. It's great to take to potlucks at the office or wherever. And it freezes great. You can't tell the difference between fresh and frozen."
Basil Pesto
----1 1/2 cups fresh basil leaves, chopped2 cloves garlic, coarsely chopped1/4 cups nuts of your choice (pine nuts, walnuts, hazelnuts or pecans are best)3/4 cup Parmesan cheese, grated1/2 cup olive oilBlender method: Place chopped basil in blender and grind briefly. Add garlic and nuts to basil; blend into a puree. Add cheese and puree briefly. With the blender running, pour olive oil gradually into blender until mixture becomes smooth and creamy.Mortar and pestle method: Place chopped basil in mortar and pound with pestle until leaves turn to a paste. In a separate mortar, pound garlic to a paste. Mix garlic with basil and mash the mixture a bit more. Chop nuts finely and add to basil mix; pound until nut bits are no longer visible. Add grated cheese and pound mixture. Slowly add olive oil to mortar and pound gently until the basil mixture is smooth.Yield: About 1 cup of pesto.Submitted by Carol Huettner, Lawrence.
Pesto
----3 packed cups fresh basil (leaves only)3 to 4 large cloves of garlic1/4 to 1/2 teaspoon salt3/4 cup Parmesan cheese, grated1/8 cup toasted pine nuts1/2 cup extra-virgin olive oilPuree everything together in a blender or food processor until it becomes a uniform paste.To use with pasta, toss room-temperature pesto with hot, drained pasta (about 1/4 cup pesto per serving).Submitted by Jill Elmers, Moon on the Meadow, Leavenworth. Adapted from "The Moosewood Cookbook" (Ten Speed Press, Sept. 1992), Mollie Katzen.
Tomatoes Stuffed with Pesto
----1 1/4 cups orzo (rice-shaped pasta), cooked1/2 cup pesto (see recipe above)5 large, fresh tomatoesParmesan cheese to tasteScoop the pulp from the tomatoes, reserving it for another use, and salt the inside of the tomato shells. Invert tomatoes to drain briefly on paper towel. Meanwhile, stir pesto into cooked orzo. Stuff each tomato with the orzo mixture; sprinkle top with Parmesan cheese. Bake in a 375-degree oven for 15 minutes. Serve at once.Yield: 5 servings.Submitted by Carol Huettner, Lawrence. Adapted from "Recipes from a Kitchen Garden" (Shepherd's Garden Publishing, 1987), Renee Shepherd.
Pesto Potato Salad
----6 large potatoes, diced, cooked and drained3 eggs, hard-boiled, peeled and chopped1 cup celery, chopped4 ounces black olives, pitted and chopped1 cup mayonnaise4 tablespoons pesto2 tablespoons Dijon mustardSalt and black pepper, to taste3 slices bacon, cooked and crumbled1 red onion, thinly slicedMix the potatoes, eggs, celery and olives in a bowl. Combine mayonnaise, pesto and mustard. Toss with ingredients in bowl. Add salt and black pepper to taste. Top with bacon and onion.Source: "The Pesto Manifesto" (Chelsea Green Publishing Co., 2002), Lorel Nazzaro.
Pesto Quiche
----Single Crust:1 1/4 cups flour1/4 cup vegetable shortening1/2 teaspoon salt1 tablespoon pesto3 to 4 tablespoons cold waterFilling:1 cup grated Gruyere cheese1/2 cup grated cheddar cheese1 onion, chopped1 sweet green pepper, chopped1/4 pound mushrooms, chopped4 tablespoons pesto4 eggs1 1/4 cups milk3 tablespoons flourSalt and black pepper3 sun-dried tomatoes, dicedTo make the crust, process all ingredients except the cold water in a food processor. Add the water and process from 2 to 3 seconds. Pat dough into a ball, chill and roll it out. Line a 9-inch pie pan with this crust.Cover the bottom of the crust with the cheeses. Gently saute the vegetables in the pesto for 2 minutes, and then place them evenly over the cheeses.Beat eggs with milk, flour and several dashes of salt and black pepper. Pour this custard over the vegetable layer. Top with sun-dried tomatoes and bake at 375 degrees for 45 minutes.Source: "The Pesto Manifesto" (Chelsea Green Publishing Co., 2002), Lorel Nazzaro.
Copyright 2018 The Lawrence Journal-World. All rights reserved. This material may not be published, broadcast, rewritten or redistributed. We strive to uphold our values for every story published.