On Wednesday mornings, the Adams Alumni Center is alive with chatter and the smell of coffee as members of the Endacott Society have their weekly meeting.
"It's just the most fun," said Winnie Geissler, a member of the society.
The Endacott Society provides opportunities for Kansas University retirees to engage in activities that continue their relationship with the university. It's open to former KU faculty and staff, as well as retirees from other universities now living in Lawrence.
There is a slight catch to joining -- all titles are gone. There are no doctors. There are no distinguished professors.
"It's just a group of friends," Evelyn Swartz said.
Max Lucas, Endacott Society president, said the group was formed with funding from Paul Endacott. While at KU, Endacott was an honors students and All-America basketball player. He graduated in 1923 with an engineering degree and later became president of Phillips Petroleum Co.
"He established an endowment in honor of the faculty and staff because he was thankful for what they provided him while he was a student," Lucas said.
When the organization was founded in the early 1980s, Swartz said members used to meet in the snack room at the union, and the newsletter was sent out on a postcard.
Now, the organization, which has 400 members, meets in the distinguished Adams Alumni Center, 1266 Oread Ave., and has a Web site.
Karmie Galle said he heard about the Endacott Society when he retired and decided to check it out. He said he enjoyed the friendship and the activities.
The society offers about 30 activities.
Members have a choice of getting involved drama study, card and game theory or attending lectures and garden seminars. There's also music appreciation, domestic public policy study, foreign policy study, preconcert dinners and out-of-town travel.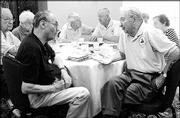 Some do all the activities. Others go to few. And some members joked that there were members that only showed up to events where there's food.
Arnold Weiss, a member for 15 years, said he enjoys the fellowship the most.
"It can be a noisy crowd, but we have a great time," Weiss said.
Copyright 2018 The Lawrence Journal-World. All rights reserved. This material may not be published, broadcast, rewritten or redistributed. We strive to uphold our values for every story published.