Istanbul, Turkey — Bombs exploded simultaneously Tuesday at two small hotels, killing two people and wounding 11. Kurdish separatists claimed responsibility for the attack, and Turkish authorities dismissed another claim by an al-Qaida-linked group.
Two more explosions caused damage but no casualties at a liquefied petroleum gas plant on the outskirts of Istanbul, and Interior Minister Abdulkadir Aksu said police were investigating to determine whether they were linked to the hotel blasts.
A previously unknown Kurdish group said it carried out the attack. The Germany-based Mezopotamya News Agency, which often reports rebel statements, said it received a phone call from an individual claiming responsibility for the attacks in the name of the Kurdistan Freedom Falcons Organization.
It said the group carried out the attacks because of recent Turkish military operations against the rebels. No other details were immediately available.
Aksu said Kurdish rebels could be responsible for the hotel attacks but added that police were also investigating other possibilities. Islamic and leftist extremists have staged attacks previously in Turkey.
The Abu Hafs al-Masri Brigades, named for an al-Qaida commander killed in Afghanistan, claimed responsibility earlier, saying the attacks were the first of a "wave of operations" in European countries and that worse was to come.
"Istanbul is the opening for the bloody war we promised the Europeans," the statement said.
It was not possible to check the authenticity of the al-Qaida claim. Western experts have questioned the credibility of the group, noting it has previously claimed to be behind events for which it clearly didn't play a role, such as power failures in North America and Britain.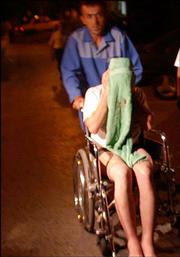 A senior Turkish police official, who spoke on condition of anonymity, said Turkish authorities had no information to suggest any links to al-Qaida and said police suspected involvement by Kurdish rebels.
The dead were identified as a Turk and an Iranian, and authorities said all but two of the injured were tourists -- four Spaniards, two Dutch, a Ukrainian and two Chinese. Nine of the wounded had been treated and released from the hospital, Aksu said.
Copyright 2018 The Associated Press. All rights reserved. This material may not be published, broadcast, rewritten or redistributed. We strive to uphold our values for every story published.