Photographer: Mike Yoder
Camera: Nikon D1H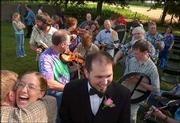 Lens: 24mm
ISO: 320
Shutter speed: 1/250th
Aperture: f7.1
I don't shoot many weddings. They make me nervous. But for family and friends I will gladly grab a camera and give it my best shot. As long as I'm free to move around and photograph in a journalistic style, I'm happy.
Below are a couple of personal tips on photographing weddings.
You can never, ever, have too many photographs of the bride. If your camera drops to your chest two hours into the ceremony and you think you've run out of things to photograph, think again. Find the bride -- keep shooting!
Always pay attention to anyone the bride kisses or hugs enthusiastically. These will be important people, most likely parents, college roommates or old boyfriends. If the hug or kiss lasts longer than seems appropriate, turn your camera on the groom for what could be interesting reaction shots.
I like to shoot detail shots that add some color and variety. At a recent wedding of friends, several fun detail shots included the laced-up strings on the bride's gown, flowers in the brides braided hair and the bride's pink Chuck Taylor shoes. These were all possible because I paid attention to tip No. 1.
To get a different perspective on things, I'll often shoot from above or below people and events. For the photograph above, I wanted to get the wedding couple in the foreground and the parading musicians in the background. I moved a chair near the bride and groom, climbed on and then raised the camera above my head, estimating my lens coverage. I fired off several shots as the bride hugged a friend and leaned back laughing. I think she was happy because I was abiding by tip No. 1.
At some point you'll need to turn your camera on the groom. A good shot might be a tight portrait of the groom gazing off in the distance as if looking for his new wife. Maybe that's what you should be doing. Go back to tip No. 1. Find the bride -- keep shooting.
Copyright 2018 The Lawrence Journal-World. All rights reserved. This material may not be published, broadcast, rewritten or redistributed. We strive to uphold our values for every story published.