Organizers of the old-fashioned McLouth Threshing Bee, now in its 47th year, aren't falling behind the times.
"Each year, we try to get as many new things as we can," said David Schmalstieg, vice president of the Heart of America Antique Steam Engine and Model Assn., the organization that sponsors the Bee. "We get new members each year who bring in new ideas."
This year, new features include lawn-mower races, a drive-in car show, inflatable playthings for children, and the Kansas National Guard will bring a tank and a climbing wall.
The event, which began Friday and continues through Sunday, takes place just off of Kansas Highways 16 and 92 in McLouth.
Admission is $6. The event is free for children under 12. Organizers recommend bringing your own lawn chairs. Limited camping is available for $5, but no electricity will be available. No glass bottles will be allowed on the grounds.
"It's entertainment for the whole family," said Gary Royer, the association's president. "It's for the young as well as the old."
Another new feature this year allowed farmers to bring their own two-wheel drive tractors to compete in out-of-field classes in the antique tractor pull Friday night. In previous shows, the tractors had to be built before 1960. With the new out-of-field classes, no age limit will be enforced.
Organizers got the idea of including out-of-field classes because the expanded event has increased turnout at other tractor pulls throughout the area.
"We'll probably have more tractors this year because of this," Schmalstieg said.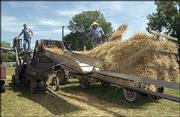 The lawn-mower races are at 6:30 p.m. today. Royer said some of the mowers could go as fast as 70 mph, but they probably would not be able to go that fast on the Bee's course.
The truck pull will be at 6:30 p.m. Sunday.
Also new this year will be the drive-in car show on Saturday. The pedal tractor pull for children ages 3 to12 will take place at 10 a.m. today. A stock garden tractor pull will begin at 2:30 p.m.
Schmalstieg said the Bee drew about 3,500 people last year.
Royer said there would be nearly twice the number of vendors at this year's event compared with last year's.
"It's getting pretty big," he said. "We were just trying to hit it pretty hard and get more vendors. It keeps getting better."
Copyright 2018 The Lawrence Journal-World. All rights reserved. This material may not be published, broadcast, rewritten or redistributed. We strive to uphold our values for every story published.