Cleveland — In the line wrapped around Cleveland Browns Stadium on Tuesday, there were thousands of pop star dreams.
There was Antonio Crane, a 27-year-old from Wisconsin who drove eight hours for a chance to audition for the reality television show "American Idol." And Lindsay Creaney, 21, who traveled from New Jersey for her shot at instant fame.
An estimated 15,000 hopefuls began arriving at 6 a.m. and planned to sleep out all night for a shot at tryouts this morning. Cleveland was the first city in the country to host auditions for the Fox show's fourth season.
As temperatures climbed toward the high 80s, "Idol" hopefuls shaded themselves with umbrellas and waved fans while sitting on the heat-baked concrete outside the stadium. Armed with playing cards, bottled water and sleeping bags, participants geared up for hours of waiting.
Auditions were to begin at 8 a.m. today.
"It's worth every minute of it," said Crane, who arrived Monday in Cleveland.
The first person in line was Levi Morse, 17, of Gladwin, Mich. He managed his feat by knowing the correct place to stand -- others had lined up at the wrong gate.
His mom, Shelley Morse, said she had to get time off from each of her three jobs to accompany her son to the auditions. Participants under 18 must have a legal guardian with them.
"He's going to be the next American Idol," she said.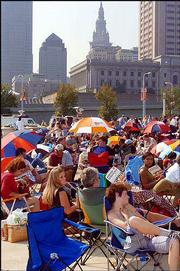 "Idol" producers will decide who in the crowd will report to a second round of tryouts Thursday. Then executive producers Nigel Lythgoe and Ken Warwick will pick who auditions for judges Randy Jackson, Paula Abdul and Simon Cowell on Aug. 14-15 at a city hotel.
The celebrity trio will decide who gets to go to the Hollywood phase of the auditions, where a dozen finalists are subjected to audience telephone votes.
Participants throughout the line clapped and cheered for the other would-be contestants as they performed for the television cameras or practiced aloud.
The heat created problems for a few participants. A handful were taken to area hospitals to be treated after passing out.
About 10 a.m., Rachel Gilmor, 20, from Wooster, joined the back of the line. "This is a once-in-a-lifetime opportunity, might as well take advantage of it when it's in your own back yard," she said.
Gilmor, who planned to sing Alicia Keys' "Fallin,"' said she is "relying on attitude, confidence and personality more than anything" in front of the judges.
Fox publicists said "Idol" producers would try to see everyone who showed up but made no guarantees.
Around 10:30 a.m., the first participants were allowed into the stadium, which for many of them would become home for a day. Once they received wristbands, participants were permitted to leave. Most said they wouldn't stray too far for fear of missing their audition.
Cleveland resident Staci Smyth, 22, said her five hours of waiting outside were part of the experience: "You've got to stand out there in the hot heat just to hear the 'yes' or 'no."'
Copyright 2018 The Associated Press. All rights reserved. This material may not be published, broadcast, rewritten or redistributed. We strive to uphold our values for every story published.