New York — Lady Liberty is back as a beacon for huddled masses of tourists after being closed for nearly three years following the Sept. 11, 2001, terror attacks.
New York City Mayor Michael Bloomberg, who had criticized the federal government for shuttering the landmark, said its reopening sends a powerful message to terrorists.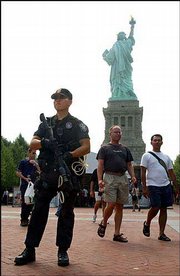 "We have no intention of being coerced into abandoning any wonderful symbol of America," Bloomberg said at Tuesday's reopening ceremony on Liberty Island.
More than 10,000 people visited the statue Tuesday, enduring two security checks -- one before boarding the ferry and the other at the base of the statue.
Concerned about safety, federal officials have prohibited visitors from entering the statue, instead only allowing access to the pedestal.
A new glass-ceiling viewing area, with special lighting, has been created to allow visitors to see into the skeletal structure of the statue.
But several public officials, including Sen. Chuck Schumer, D-N.Y., and Rep. Anthony Weiner, a New York Democrat, have called for the federal government to allow visitors access to the crown. Secretary of Interior Gale Norton said Tuesday the federal government would continue to study the possibility of greater access.
"We always are open to looking at how we can improve the experience of visitors," Norton said.
Bloomberg, who remembers climbing to the crown as a child, said Tuesday it would be "nice" if the crown could be opened.
But there are "security concerns in this day and age that we didn't have before," he said. "And I don't know why it's that big a deal. You can see up."
Copyright 2018 The Lawrence Journal-World. All rights reserved. This material may not be published, broadcast, rewritten or redistributed. We strive to uphold our values for every story published.