Rep. Tom Sloan, R-Lawrence, won his fifth Republican primary Tuesday, defeating conservative challenger Keith Noe, 1,982 votes to 934.
"Mr. Sloan is a diligent campaigner. I'll give him that," said Noe, a retired Los Angeles Police officer who returned to Kansas to live on his family's farm.
"He was the incumbent, and I was the first-time challenger," Noe said.
Noe pinned most of his campaign on opposition to same-sex marriages and an unwillingness to raise taxes for schools.
Sloan said he was willing to raise taxes for schools and voted against amending the state constitution to ban same-sex marriage.
"The key issue in the 45th District is funding for education at all levels, K through 12 and higher education," Sloan said.
Sloan is chairman of the House Higher Education Committee. He has been endorsed by the Kansas National Education Assn. and Kansas Families United for Public Education.
He will face Libertarian candidate Patrick Wilbur in the Nov. 2 general election. The Democratic Party did not field a candidate in the race.
"I will take Mr. Wilburn's candidacy seriously. I never take an election for granted," Sloan said, noting that he began campaigning door-to-door on June 1.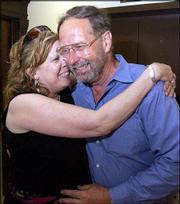 "That's every evening, Monday through Friday, and Saturday and Sunday afternoons," Sloan said. "And I do that every year, not just election years. I truly believe that people should know who's trying to represent them."
The 45th District covers all or parts of seven townships in northwest Douglas County, including much of west and north Lawrence.
State records show that from Jan. 1 through July 23, Sloan spent $22,696 on ads, campaign materials and signs. Noe spent $3,732.
Most of Noe's campaign was self-financed, while Sloan reported contributions from several individuals and political action committees.
In the 2002 primary, Sloan defeated Melissa Boisen, 1,801-590. He beat Libertarian challenger Jeffrey Watts in the general election. Again, the Democrats did not field a candidate.
Copyright 2018 The Lawrence Journal-World. All rights reserved. This material may not be published, broadcast, rewritten or redistributed. We strive to uphold our values for every story published.