The "big heat" returned Tuesday to Lawrence with a vengeance, sending the temperature to near 100 degrees and heat indices as high as 117 degrees.
Many parks, tennis and basketball courts went unused during the afternoon as the mercury reached 98 degrees. But the Lawrence Outdoor Aquatic Center, 727 Ky., did booming business.
"I think we've had close to 1,000 people today," said Jimmy Gibbs, Lawrence aquatics supervisor. "It's been a great day."
The outdoor swimming pool had averaged from 400 to 500 people a day when it was cooler earlier in the summer. But the average shot up to 1,000 or 1,200 people per day when the heat returned a few days ago, Gibbs said.
"That's normal for what a summer should be," he said. "The water feels great. The people are enjoying it."
The heat, however, made a tough day for Lawrence-Douglas County Fire & Medical crews. Dozens of firefighters were sent to battle a blaze that broke out shortly before 11 a.m. at Park 25 apartments, 2401 W. 25th St.
Five firefighters were overcome with heat exhaustion and taken to Lawrence Memorial Hospital. All were treated and released, but only two returned to duty, fire officials said. The other three were sent home to rest.
Firefighters were loaded down with 65 pounds of equipment and wearing suits designed to keep water on the outside, but that also keep sweat on the inside, said Division Chief and shift commander Rob Kort.
"It's like a built-in sauna, and then you go into a burning building that is several hundred degrees, " he said.
The heat wave should end today, 6News meteorologist Matt Sayers said. A cold front moved in overnight, bringing with it a chance for showers, he said. Today's high temperatures should be 85 degrees, and high temperatures should remain in the low to mid-80s the rest of the week, he said.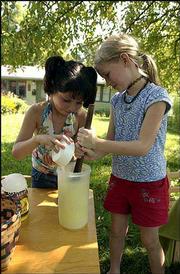 Copyright 2018 The Lawrence Journal-World. All rights reserved. This material may not be published, broadcast, rewritten or redistributed. We strive to uphold our values for every story published.