Los Angeles — Hal Sutton is 12 days away from his most important decision as Ryder Cup captain, when he makes his two wild-card selections to fill out the American team. He doesn't know who he will pick, only the reaction that will follow.
"We just crave second-guessing, don't we?" Sutton said Tuesday morning, looking around the table at a dozen reporters. "I tell you what. That's the biggest, defeatist attitude. If we take that sort of attitude into the Ryder Cup, you can book it -- we will get beat. I will not allow the U.S. team to do that.
"We'll either be right or wrong. And that's all we can be."
Sutton never will be mistaken for a wishy-washy captain. Ask him the one thing he can do to influence the outcome at the Ryder Cup on Sept. 17-19, and he quickly replies, "Decisiveness."
He is making all the decisions by himself, from the style of golf bag the caddies carry to the shirts the players wear to the order for the pivotal Sunday singles matches.
"Let me tell you how this is going to go, just so y'all know," he said, blue eyes blazing again. "On Saturday afternoon, I will talk to (assistants) Jackie Burke and Steve Jones in a separate room. I will write the names down in the order they're going to play. I'll walk in and lay it down. And I'll walk out. That's exactly how we'll play.
"It's not going to be up to anybody else. And that's what I mean by being decisive."
But who will be the wild-card picks?
That's where Mr. Decisive takes a seat on the fence.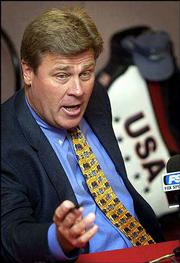 He wants someone in top form and someone whose game best suits Oakland Hills. Asked which was more important, he offered a rare pause.
"I think it's equal," he finally said. "I know I'm riding the fence on you. It doesn't make for good print. But honestly, it takes the guy playing the best whose game suits Oakland Hills."
Sutton, who has always stated his opinions with conviction, has reason to be so uncertain.
"I've said all along this won't be that difficult," he said. "And each week, it gets a little harder."
Despite playing through a foot injury, Scott Verplank had a strong showing at the British Open and shot 66 on Sunday in the Buick Open to collect more points, moving up to No. 12. Sutton has watched him grind every week, and he likes what he sees.
Stewart Cink is one of only four players in that 11-20 slot who has won this year.
Tim Herron called Sutton to tell him he has Lyme's Disease, but that he'll play the PGA Championship, anyway.
Jerry Kelly closed strong in a tie for eighth at the Buick Open to move into No. 10 in the standings. Not lost on Sutton is that Kelly and Jim Furyk (already a lock for the team) were the only two players at the Buick Open who drove over to Oakland Hills to play a practice round last week.
"In a driving rain," Sutton said. "And they played all 18 holes."
And then there's Todd Hamilton, who went toe-to-toe with Ernie Els over the final two rounds and beat him in a four-hole playoff at the British Open.
"Winning a major the way he did, playing 40 holes with Ernie Els, would certainly be an eye-opening situation for any captain," Sutton said. "I can't tell you whether I think Todd Hamilton is going to make the team. But he moved me."
Copyright 2018 The Associated Press. All rights reserved. This material may not be published, broadcast, rewritten or redistributed. We strive to uphold our values for every story published.