Catfish is summer's most versatile catch, according to Real Simple magazine, which offers a nifty three-day menu plan for streamlined cooking with catfish as the central ingredient.
The menu plan includes a first recipe for "Today," which includes cooking all the catfish, serving some of it and reserving the rest. The second recipe uses some of the reserved cooked catfish for another main dish for "Tomorrow." Suggestions for a third use of catfish "Whenever," round out the plan.
The following two main dishes can both be on the table in about 30 minutes.
For "Today":
Blackened Catfish
----
2 tablespoons paprika
2 teaspoons cayenne pepper
2 teaspoons dried oregano
1 teaspoon kosher salt
1 teaspoon freshly ground black pepper
Ten 6-ounce catfish fillets
3 tablespoons olive oil
Preheat broiler.
In a small bowl, combine the paprika, cayenne, oregano, salt and pepper.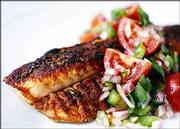 Place the catfish fillets on a large baking sheet in a single layer. Lightly coat both sides of each fillet with the oil, then liberally rub the spice mixture evenly onto both sides (reserve any remaining spice mix in an airtight container for future use). Place the fish under the broiler and cook, watching closely, until slightly charred, about 5 minutes. Turn and broil until cooked through, about 5 minutes more. Reserve 4 fillets for "Tomorrow" and freeze 2 fillets for "Whenever."
Serve the remaining 4 catfish fillet with Salsa Fresca With Cilantro. Makes 4 servings.
Salsa Fresca With Cilantro
----
Two 8-ounce packages halved (quartered if large) cherry tomatoes
1/2 small red onion, finely chopped
1 chopped small green bell pepper
1 minced serrano chili
3 tablespoons chopped fresh cilantro
1/4 teaspoon kosher salt
1 tablespoon fresh lime juice
2 tablespoons olive oil
In a large bowl, combine all ingredients. Toss well.
"Tomorrow":
Crispy Catfish Cakes
----
4 reserved catfish fillets, flaked
1/2 cup corn (uncooked kernels from 1 fresh ear or from a defrosted package of frozen corn)
3 scallions, trimmed and thinly sliced
1/4 cup fresh parsley, chopped
3 eggs, whisked
1 cup fresh bread crumbs (made from 2 slices soft white bread, ground in a food processor)
1 tablespoon olive oil
1 tablespoon unsalted butter
In a large bowl, combine the fish, corn, scallions, parsley, eggs and bread crumbs; mix well. Form the mixture into 8 large patties (or 12 medium patties).
Heat the oil and butter in a large nonstick skillet over medium heat. Place the patties in the pan and cook until crispy and golden brown, carefully turning once, about 5 minutes each side. Serve immediately, accompanied by Dill Tartar Sauce. Makes 4 servings.
Dill Tartar Sauce
----
1 cup mayonnaise
1 shallot, finely chopped
1 tablespoon fresh lemon juice
1 dill pickle, finely chopped
1 tablespoon chopped fresh dill
In a large bowl, combine all ingredients and mix well.
Suggestions for using the remaining 2 frozen catfish fillets "Whenever":
l Arrange 1-inch pieces of fish on skewers, alternating with chunks of tomato, yellow bell pepper and mushrooms, tossed in olive oil, oregano and salt; finish each skewer with a lime wedge; grill 3 minutes each side. Squeeze lime over kebab before eating.
l Halve fish fillets, place on four foil squares coated with cooking spray, layer with a few slices of potatoes, zucchini and scallions, sprinkle with olive oil, salt and pepper and lemon slices; wrap and bake in a 450-degree oven for 20 minutes.
Copyright 2018 The Associated Press. All rights reserved. This material may not be published, broadcast, rewritten or redistributed. We strive to uphold our values for every story published.