Sen. Mark Buhler had said he was willing to raise taxes for schools. His opponent, Don Johnson, vowed to find the money somewhere else.
Given a clear choice between the moderate and conservative approaches to solving the funding crunch facing schools, Republican voters in the 2nd Senate District picked Buhler, 63 percent to 37 percent.
"I think voters want a balanced approach to government," said Buhler, a Lawrence Republican. "They see a lot of arguing coming out of Topeka (between conservatives and moderates), and few results."
Repeated efforts Tuesday to reach Johnson, 50, for comment were unsuccessful.
Throughout his campaign, Johnson, a conservative, promised not to raise taxes. He also supported amending the state constitution to prohibit same-sex marriage.
Buhler, 50, said he "heard some discussion" of the amendment among voters. "It was both ways," he said. "But I don't think that's all that the voters of Douglas County care about. We made almost 240 votes last (session), and a lot of people have tried to focus on three or four social issues. But those three or four things do not reflect the full range of issues we deal with or that we need to deal with."
Buhler, a former Douglas County commissioner, will face Democrat Marci Francisco and Reform Party candidate Jim Mullins in the Nov. 2 general election. Francisco and Mullins were unopposed in their primaries.
In the general election, Buhler said voters again would have a clear choice "between those on the left, those on the right and, hopefully, me in the middle."
In the Senate, Buhler serves on the banking, taxation and local government committees.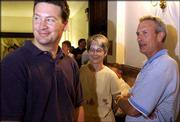 The 2nd Senate District covers northwest Douglas County, including all of Lawrence south of Sixth Street.
After the 2002 election, the Douglas County Republican Central Committee picked Buhler to succeed then-Sen. Sandy Praeger of Lawrence, who resigned her seat after she had been elected state insurance commissioner.
Copyright 2018 The Lawrence Journal-World. All rights reserved. This material may not be published, broadcast, rewritten or redistributed. We strive to uphold our values for every story published.