Bob Aduddell and Lindsay Garcia watched helplessly Tuesday morning as the Lawrence apartment they'd lived in for only two months went up in smoke and flames.
"I was in the bedroom playing video games when I heard someone screaming 'fire,'" Aduddell said.
Downstairs in their apartment, David Ludwick and his wife, Susan Ludwick, also heard the alert.
"I looked out my blinds and saw flames," Susan Ludwick said.
Everyone in building No. 2 at Park 25 apartments, 2401 W. 25th St., escaped uninjured from the fire that broke out shortly before 11 a.m.
At least four people were left homeless. Four apartments sustained serious damage.
The blaze started at a maintenance and storage shed that abuts the apartment building.
"As soon as we got outside, we could hear paint cans popping," said Aaron Allison, who lived in an apartment across the hall from Aduddell and Garcia.
Lawrence-Douglas County Fire & Medical responded to what became a three-alarm fire and remained at the scene most of the day putting out hot spots while fire investigators assessed damage and searched for a cause. The fire was not considered suspicious, Chief Jim McSwain said.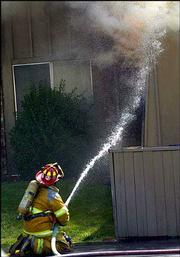 The fire heavily damaged the two apartments at the south end of the building next to the maintenance shed, fire officials said. It was those apartments where Aduddell, Garcia and the Ludwicks lived, and they lost most, if not all, of their belongings.
Other apartments in the building sustained varying degrees of smoke and water damage, said shift commander Rob Kort.
Dave Henricks, a maintenance worker at the apartment complex, said he was inside another nearby apartment building when a resident there told him about the fire at the shed. He said he checked and saw fire along the outside of the east end of the shed. He ran to the management office and told employees to dial 911. Then he and assistant manager Jeff Ridenour ran back to the fire and saw that it was rapidly spreading, Henricks said. They began alerting residents in the apartment building.
"I was screaming and pounding and kicking on the doors," Henricks said.
Aduddell and Garcia said they had renter's insurance to help cover their losses. The Ludwicks, who have lived in their apartment for several years, said they did not have insurance.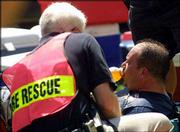 "We like it here. We never had a problem," Susan Ludwick said.
There are eight two-bedroom apartments in the building, and seven were occupied by a total of 15 people, complex managers said. By evening the four apartments at the end of the building opposite the fire had been reopened to their occupants, said Fire Marshal Rich Barr.
The Douglas County Chapter of the American Red Cross was providing assistance to fire victims. Red Cross workers also provided food and drinks to the firefighters.
Apartment manager Linda Love-McCall said she would try to relocate to apartments elsewhere in the complex those who couldn't return to their units.
Firefighters were hampered by temperatures in the 90s and heat indices well over 100 degrees.
"It was a difficult fire to fight," McSwain said. "It (shed) was loaded with combustibles, as you would expect at any apartment complex."
Dozens of firefighters were sent to the scene, and five were taken to Lawrence Memorial Hospital for treatment of heat exhaustion. All were treated and released. Some off-duty firefighters were called to work, and the department requested assistance from the Overland Park Fire Department. Overland Park sent two fire trucks to Lawrence to help run the stations.


-- Staff writer Jennifer Byrd contributed to this story.
Copyright 2018 The Lawrence Journal-World. All rights reserved. This material may not be published, broadcast, rewritten or redistributed. We strive to uphold our values for every story published.