CANTON, OHIO — Competing for votes in a region battered by layoffs, President Bush and Democrat John Kerry sparred over the economy Saturday on overlapping bus tours through Ohio and Pennsylvania.
Bush defended his record and promised the economy would get better. Kerry lambasted the president for job losses and compared him to President Herbert Hoover, whose term ushered in the Great Depression.
"The economy is strong. It's getting stronger," Bush told a campaign rally in Canton. "It lags in places like eastern Ohio. I know that. I'm here to tell you we can do more to make America job friendly."
Kerry, seizing on Bush's assertion Friday that "we are turning the corner" on job losses, reminded a rally in Greensburg, Pa., that Hoover's re-election slogan was "prosperity is just around the corner."
"I don't want to run talking about turning a corner," Kerry said. "I'm running to climb the mountain and get to the top."
Both candidates' itineraries reflected the hard battle expected to be waged for the electoral votes in Ohio and Pennsylvania. Bush made his way from Cleveland to Pittsburgh in a seven-bus caravan, while Kerry's 10-bus motorcade traveled from Harrisburg, Pa., to Dublin, Ohio, in the Columbus suburbs.
The candidates nearly crossed paths on Interstate 70 in western Pennsylvania, missing one another by 33 minutes.
Kerry also made a stop in West Virginia as he pressed a cross-country trek through the most competitive states, looking to build or at least sustain any electricity generated by last week's Democratic National Convention.
Ohio, which went to Bush by four percentage points in 2000, is considered up for grabs now largely because of job losses -- more than 200,000 lost since Bush took office, though more than 30,000 jobs were added this year. Kerry aides have vowed to campaign hard for the state.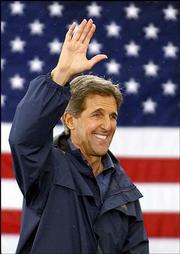 Bush has vowed to move Pennsylvania, which went to Al Gore in the 2000 vote, into the Republican column. Bush's stop in Pittsburgh was his 31st in the state since he became president.
Western Pennsylvania is a crucial battleground for Kerry. Neither President Clinton nor Vice President Gore won in the congressional district around Pittsburgh, a region once dominated by the steel industry.
More than 4,000 people waited in the rain for Kerry at the train station in Greensburg, a town of 16,000. About 15,000 Kerry supporters crowded into downtown Scranton on Friday and even more Friday evening in Harrisburg near the state Capitol building.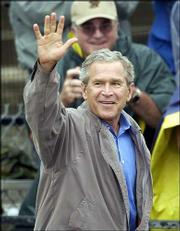 In Greensburg, 53-year-old Charlie Vizzini and his father Charles J. Vizzini, 80, arrived early and sat through a heavy downpour for rally.
Vizzini, whose father is a decorated World War II veteran, said much of the antipathy toward Bush stemmed from the war in Iraq.
"This is unjustified," he said. "We should have gotten our allies, like we did in World War II."
Thousands packed the Canton Memorial Civic Center to hear Bush compare his tax-cutting record with Kerry's plan to rollback tax cuts for Americans earning over $200,000.
"He said he's only going to raise taxes on the so-called rich. But you know how the rich is -- they got accountants," Bush told the crowd. "That means you pay."
Copyright 2018 The Lawrence Journal-World. All rights reserved. This material may not be published, broadcast, rewritten or redistributed. We strive to uphold our values for every story published.