Emporia — It was a second-half shellacking Saturday at the 31st annual Kansas Shrine Bowl, and, this year, it was administered with great pride by the East side.
The East squad -- which included Free State High's Dain Dillingham, Baldwin's Micah Mason and Kansas University signee Scott Haverkamp -- scored 22 unanswered points in the second half en route a 29-12 victory in front of 4,000 fans at Welch Stadium.
Shrine Bowl pride is back East, just a year after current KU running back John Randle pulverized everyone in his path in leading the West to a 35-2 victory in the 2003 Shrine Bowl.
After 10 days spent bonding as a team at grueling workouts at Emporia State University prior to Saturday's showdown, the East squad couldn't be happier about coming together and putting it to the West like it did.
"I think the key to us winning was that we played as a family," Mason said. "The talent is going to be there. It's an all-star game. It's whoever comes together as a team the fastest."
Neither Dillingham nor Mason provided game-breaking plays, but both were vital to the East's victory. Mason, used as a defensive end and on special teams, recorded five tackles, two of them solo. He was among the team leaders in that department.
Dillingham, meanwhile, prolonged what proved to be a long, game-changing East drive in the third quarter. With third down and seven yards to go at East's own 22-yard line, Dillingham made a nice shoestring catch on a Kyle Kruger pass, recording a 14-yard reception and the first down.
It was Dillingham's only catch of the night, but it proved to be the first of six first downs on the drive for East.
"It was important for us to keep our defense off the field to get some rest," Dillingham said. "They did a good job of creating turnovers and keeping it close, so it was really the offense's turn to come out that drive and get something going.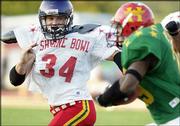 "It was an important catch, and I was glad I had it. But if I didn't have it and the score was the same, I'd be happy."
The 16-play, 81-yard drive was capped by a two-yard run by Pittsburg Colgan's Caleb Farabi that put East up 22-12.
Farabi, a lightning-quick Pittsburg State signee, had 76 all-purpose yards -- many of them earned with jukes, jives and spins -- and added a 37-yard kickoff return. As a high school senior, Farabi averaged a whopping 13.3 yards per carry.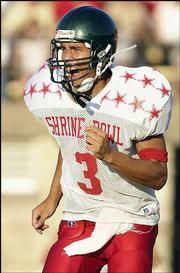 The East added one more score late, when Shawnee Mission Northwest's Ryan Torain rumbled to a 22-yard score, one play after breaking loose for a 19-yard run. He finished with 80 yards on nine carries.
Afterward, players from both sides exchanged handshakes and goodbyes, knowing that their 10 days of football together was over.
"It was a lot of fun," Mason said. "The cherry on top was the win."
Mason reports to Baker University in two weeks, where he'll play for the Wildcats under new coach Mike Grossner.
Dillingham, though, said goodbye to football with Saturday's game. He'll attend Drake and focus solely on basketball and academics.
"I'm definitely going to miss it. Experiences like this will really make you miss it," Dillingham said.
"But I'm glad that it was this experience that I could end on."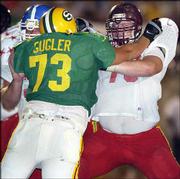 Copyright 2018 The Lawrence Journal-World. All rights reserved. This material may not be published, broadcast, rewritten or redistributed. We strive to uphold our values for every story published.