Don't worry if you start seeing spots this weekend.
More than 350 Dalmatians and their owners will sweep into Lawrence for the Dalmatian Club of America's national specialty show at the Lawrence Holidome, 200 McDonald Drive.
Organizers from the club's local branch, the Heartland Dalmatian Club of Greater Kansas City, have been working to bring the show to Lawrence for about four years, said Julie Lux, the national club's spokeswoman and a Heartland Club member.
Pets and owners will descend upon Lawrence from both coasts, from all over the Midwest and even Canada, she said. But there's no cash prize.
"We do it for love, not money," said Lux, who will show two of her own champion dogs this weekend.
The dogs will compete in road trials, or endurance tests in which the dogs run alongside horses on tracks for 12.5 and 25 miles; agility trials, in which dogs pass through a course of hoops, tunnels and balance boards; futurity, in which owners show off puppies they pledged for entry into the national show before they were born; and Best of Breed judging.
Anyone with a registered Dalmatian can enter this weekend's competition, but few who come are amateurs. Lux takes her show Dalmatians Ike and Gucci to about 60 shows per year. They fly; they stay in hotels. The dogs are like children to her, she said.
"If I could teach Ike to order room service, life would be perfect," she said.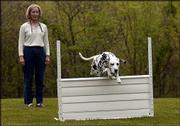 Dog-show people are those who love seeing champion dogs lined up, tails pointed. And they love the precision of a dog who will glide over a 2-foot jump at the command of a hand wave, said Nanette Dittrick, a rural Douglas County resident and owner of six competing Dalmatians who is a member of the Heartland club.
Her top prospect for this weekend is Adler, who will enter the open obedience challenge for midlevel competitors.
To prepare, she has converted her basement into private living quarters for the dogs. A gleaming linoleum floor is where the dogs practice.
At the Dittrick home, fetch isn't just a game -- it's a way of life.
Copyright 2018 The Lawrence Journal-World. All rights reserved. This material may not be published, broadcast, rewritten or redistributed. We strive to uphold our values for every story published.