When Ralph Reschke attended his first Lawrence Region Antique Auto Club of America swap meet in 1975, it was a small affair, with about 70 or 80 vendors catering to an exclusive group of enthusiasts.
But word spread, and the annual event got bigger and bigger.
"It grew a huge amount every year," Reschke said.
This year the swap meet will draw about 600 vendors from across the country and a crowd of 15,000 or more, Reschke said.
"You'll have trouble finding a hotel room in this town Friday or Saturday night," he said.
The meet, now in its 41st year, begins today and runs through Sunday at the Douglas County 4-H Fairgrounds, 2110 Harper St.
Reschke, president of the Lawrence club, said the meet took up only a small corner of the fairgrounds when it first began, but it now occupies the entire space.
Club members and volunteers have spent a week preparing for the swap meet, cleaning the fairgrounds and marking off spaces for vendors. Local 4-H members, Boy Scouts and a Lawrence High School auto class are among those helping at the event.
"This is probably the biggest swap meet in this part of the U.S.," Reschke said. "About anything you'd want for a car, you can find it here."
Vendors at the meet range from private dealers to large corporations. They sell a variety of auto parts for everything from antique vehicles to so-called "muscle" cars.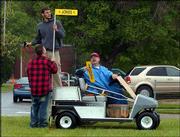 Some people bring fully restored vehicles to put on sale in what is called the "car corral." Reschke said the corral usually featured a range of cars, from 1909 Model Ts to 1980s models.
Although rain is in the forecast for today, Reschke was unconcerned. He said the weather had never affected turnout.
"We've been drowned out, frozen out and everything else," he said, "but people still show up."
The annual swap meet, sponsored by the Lawrence Region Antique Automobile Club of America, is free and open to the public.Hours are from 5 p.m. to dark today, 6:30 a.m. to dark Saturday and 7 a.m. to noon Sunday.The meet is at the Douglas County 4-H Fairgrounds, 2110 Harper St.
Copyright 2018 The Lawrence Journal-World. All rights reserved. This material may not be published, broadcast, rewritten or redistributed. We strive to uphold our values for every story published.