On a typical weekday afternoon, Pelathe Community Resource Center would be filled with the sights and sounds of teenagers working after-school jobs and receiving tutoring.
Things aren't so typical at Pelathe these days.
The center, which mostly serves the city's American Indian population, is running short of money to keep its youth programs going. On Tuesday afternoon, Pelathe was quiet.
"We had kids working that we had to suspend because we were not going to be able to make payroll," said Caroline Hicks, the center's co-director.
Grant funding that sustained the programs in recent years has dried up. That means the 15 teens who worked at Pelathe, 1423 Haskell Ave., as administrative assistants and in the gift shop, selling American Indian crafts and receiving tutoring for school, must look elsewhere to make cash.
Hicks says tutoring continues, but fewer students are taking advantage of the program without the job as an incentive to pull teens in the door.
"The youth programs are a positive way to develop our Native American youth -- to teach them volunteerism, to teach them community service," Hicks said. "We're giving them employment skills they most likely wouldn't get in school. We're pushing them beyond themselves."
One student who worked as an administrative assistant at Pelathe submitted a resignation letter Tuesday, citing a need for a paying job despite her "unique and rewarding experience" at the center. That student, and others, were unavailable for comment Tuesday.
The cash shortage at Pelathe means the center is increasingly relying on volunteers for help. But other programs at the center -- a food pantry for the poor, transitional housing for homeless families and the New Dawn Native Dancers -- are solvent so far.
A pair of fund-raisers is planned next month to help the youth programs. Hicks said $45,000 was needed.
"If programs like this aren't kept going," she said, "you're going to have kids who are disenfranchised real quick."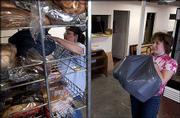 Two fund-raisers are planned to help Pelathe Community Resource Center make up its cash shortage:¢ A community yard sale will take place from 9 a.m. to 4 p.m. May 7 and 8 a.m. to 2 p.m. May 8 at Pelathe, 1423 Haskell Ave.¢ The Pelathe 5K Race will be May 8 at Haskell Indian Nations University. Registration is $10 and includes a race T-shirt. Participants are asked to bring food items for donations to Pelathe's pantry.Call 841-7202 for more details.
Copyright 2018 The Lawrence Journal-World. All rights reserved. This material may not be published, broadcast, rewritten or redistributed. We strive to uphold our values for every story published.