Lawrence Memorial Hospital had a record financial year in 2003, according to a report released Wednesday.
A bevy of new services -- including increased care for cancer, sleep disorders and wounds -- helped the hospital post record operating revenues of $94.2 million in 2003, according to LMH's annual report. The report was presented Wednesday to the hospital's board.
Revenues were up 10 percent from the previous record of $85.11 million in 2002. Operating profit also reached a high of $6.46 million, up 34 percent from the record $4.82 million posted in 2002. Annual profits are reinvested back into the nonprofit hospital.
Hospital officials said they were pleased with the financial results.
"It is important that we perform well financially for so many reasons," said Vickie Randel, chairwoman of the hospital's board of directors. "If we don't have additional revenues over our expenses, we're not able to do anything new."
The hospital's auditing firm -- Kansas City, Mo.-based BKD, LLP -- said it appeared that new services added by the hospital in 2003 were partly responsible for the increased revenues and profits.
The addition of radiation therapy at the hospital's Oncology Center added $1.51 million in revenue. LMH's new Wound Healing Center and sleep lab added $2.5 million.
"We think those numbers are a sign that we really met some needs in the community," said Gene Meyer, LMH president and chief executive.
Meyer said the new services were part of a long-term strategy by the hospital to encourage Lawrence residents to remain in the city for their health care.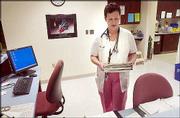 "I think these new services set the tone for other services we can offer," Meyer said. "They show that highly technical, highly physician-oriented and high-touch services can and should be done at LMH."
Hospital officials hope to add other services in 2004. LMH is negotiating a deal with the Kansas City, Mo.-based St. Luke's Health System that would allow LMH to begin providing angioplasty procedures and other similar cardiovascular treatments.
Despite the improved financial results, Meyer said there were challenges in 2003. Rising costs for pharmaceuticals and other medical supplies continued to take a bite out of the hospital's finances. Drug expenses increased by 17 percent during the year, the largest expense increase the hospital incurred.
"It is a huge concern for us," Meyer said. "What we're doing to address it is asking our physicians and our pharmacists to make sure they're as efficient and effective as possible."
The amount of charity care that the hospital provided to people who couldn't afford to pay for medical services also increased. LMH provided $3.01 million worth of charity care in 2003, up from $2.36 million in 2002.
"I think that is a real sign that more people are not able to secure health insurance," Meyer said.
Copyright 2018 The Lawrence Journal-World. All rights reserved. This material may not be published, broadcast, rewritten or redistributed. We strive to uphold our values for every story published.