Patrons visiting the Lawrence Public Library on Wednesday found themselves attending a centennial birthday party.
The library celebrated its 100th birthday by passing out free bags of popcorn, slices of cake and cups of punch. Free posters and T-shirts also were available.
"This has really been an enjoyable day," library director Bruce Flanders said late in the afternoon.
Flanders and other library workers and patrons who were within earshot even found themselves being serenaded with the traditional "Happy Birthday" song by children from Century School, 816 Ky.
Dozens of people signed two large birthday cards pinned to easels. Among the personal messages: "Here's to another 100 years," "To an awesome library" and "Grateful for your services."
Among those signing the cards were Aaron Giago and his 4-year-old daughter, Ashley Giago. They usually make one or two trips a week to the library, Aaron Giago said.
"I come here mainly for my daughter," he said, as they headed into the children's section of the library. "She likes looking at the fish and going through the books."
Aaron Giago said he enjoyed the comfortable atmosphere at the library.
"The people here are friendly and very helpful," he said.
There have been various forms of a library in Lawrence since its early settlement days, local historian Katie Armitage said during a presentation on the library's history Wednesday night.
"The library has always been very central to Lawrence, and it remains that today," Armitage said.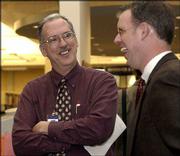 Libraries serve humanity and protect free access to knowledge, Flanders said during a short afternoon speech to about 20 members of the Friends of the Public library and other local and state public officials. He also said libraries should "honor the past and create the future."
It was in 1904 in the Carnegie building at Ninth and Kentucky streets that the library officially went public. In 1972, the library moved out of the aging and cramped building into its current building at 707 Vt.
"It was a magnificent structure and seemed so large that one could hardly imagine it being outgrown," Flanders said.
Yet that is what has happened, Flanders and other library supporters say. This year's library centennial also brings a new effort to build a new library for the city. A task force is exploring options for a new building, and proposals might be presented to the Lawrence City Commission later this year.
Hans Fischer, vice president of the Kansas Library Trustees Assn., hopes the city will get a new library, but he also commended what it has now.
"I'm so proud Lawrence has achieved the kind of library that it has now," Fischer said. "There are so many different ways it serves the public."
Copyright 2018 The Lawrence Journal-World. All rights reserved. This material may not be published, broadcast, rewritten or redistributed. We strive to uphold our values for every story published.