Cool weather, cloudy skies and a few sprinkles are expected today in Lawrence on Earth Day, the international celebration of environmental awareness.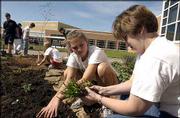 Matt Jacobs, 6News meteorologist, said cloudy conditions will continue through the rest of the day. A few sprinkles had dampened city streets by 8 a.m.
A band of moisture was developing this morning through central Kansas, which could bring some rain to the Lawrence area later today. Jacobs predicted a 30 to 40 percent chance of more light rain.
"Out of those cloudy skies might be a couple of scattered sprinkles," he said.
Today¢ Slide show & lecture by Eric Drooker, 7 p.m., Kansas Union BallroomSaturday, April 24¢ Clinton Lake Cleanup, 9 a.m. to 1 p.m., meet at shelter No. 1 in Overlook Park¢ Earth Day activities at Prairie Park Nature Center, 10 a.m. to 4 p.m. 2730 Harper St.
This morning's temperatures were in the 50s, with the temperature expected to reach a high of 64 today. Tonight's temperature will drop down to 46, with winds 5 to 15 mph.
"The rain chances are better tomorrow afternoon," Jacobs said. "There could be thunderstorms on Saturday."
Friday's high will be 46. The National Weather Service is calling for a 60 percent chance of rain Friday night through Saturday.
Saturday's morning low will be 48, with east winds 10 to 15 mph. Saturday's high will reach 61.
Sunday will bring warmer temperatures, with the high reaching 67 after a morning low of 47.
Monday and Tuesday will see a return to warmer temperatures, with the highs in the low to mid 70s under sunny skies.
Copyright 2018 The Lawrence Journal-World. All rights reserved. This material may not be published, broadcast, rewritten or redistributed. We strive to uphold our values for every story published.