Monday's Seabury Academy girls soccer game against Kansas City Harmon resembled the Seahawks' previous match Thursday against Overland Park Hyman Brand.
The major difference: The Seahawks won, 1-0, on Thursday, but were defeated, 2-0, Monday at the Youth Sports Inc. fields.
"We hand some good opportunities like last time," Seabury coach Amanda Williams said. "We just couldn't finish."
In the first half, each squad had ample chances to score but neither could hold the ball long enough to set up a substantial drive.
The game was a candidate for a scoreless tie until Harmon (6-6) took advantage of a penalty kick in the 64th minute. Harmon's Hoca Mejia streamlined a shot off the left post past Seabury keeper Lindsey Ahlen.
Mejia scored her second goal four minutes later with a pinball shot that bounced off a group of Seahawk defenders and into the left side of the net.
"It was pretty evenly matched," Williams said. "We had a couple of unlucky breaks. It wasn't anyone's fault in particular. We just had a couple of breakdowns defensively."
And, like Thursday's game, the Seahawks (1-3) flew out of the gate with offensive pressure. Just seconds into the first half, junior Elise Stella had a shot on goal.
Numerous Seabury players drove the ball downfield, and sophomore defender Katie Pottorff had the most success threading the Harmon defense. However, the Seahawks couldn't score.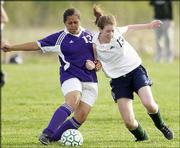 "We were getting by them when she was taking people on," Williams said.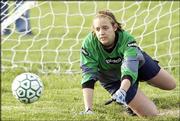 Copyright 2017 The Lawrence Journal-World. All rights reserved. This material may not be published, broadcast, rewritten or redistributed. We strive to uphold our values for every story published.