Boston — In the end, Gabe Kapler and the Boston Red Sox got themselves going in the right direction.
Boston polished off a big weekend with another win over the New York Yankees when Kapler's RBI single in the eighth inning provided a 5-4 victory Monday.
"Taking three of four from the Yankees is a tough thing to do in any venue," Kapler said.
Things didn't go well early at Fenway Park for Kapler or the Red Sox. He looked foolish on the bases in the second inning, twice forgetting how many outs there were, and Boston fell behind 4-1.
But on a huge sports day in the Hub -- the Boston Marathon in the morning, Game 7 of the Bruins-Canadiens NHL playoff series at night, a major trade for Corey Dillon by the Super Bowl champion Patriots -- the Red Sox again stopped Alex Rodriguez and their fiercest rivals.
Rodriguez, hitless in his first 16 at-bats in the series, finally singled with two outs in the ninth, but was stranded when Jason Giambi struck out against Keith Foulke.
"It was an awful series for me personally," Rodriguez said. "I feel good. I'm confident I'm going to come out if it. It's one bad series."
Kapler's problems on Patriots Day began shortly after the 11:07 a.m. start.
Kapler had been struggling with five hits in 29 at-bats before singling in Boston's first run in the second.
Then, losing track that there were two outs, he held up to make sure Pokey Reese's single fell into the right-field corner and had to stop on second.
Kapler held up again when the next batter, Johnny Damon, flied out to end the inning.
Those mistakes didn't cost Boston a run, but Kapler didn't think his winning hit made up for them.
"There's no making up for that," he said. "There's absolutely no excuse for that in a spring training game, in a Little League game."
Starter Bronson Arroyo trailed 4-1 after three innings, then shut out the Yankees until leaving after striking out Rodriguez leading off the seventh.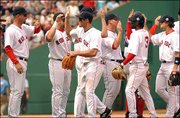 Manny Ramirez, who ended the seventh with a double-play grounder with runners at first and third and the game tied at 4, made an outstanding catch while banging into the left-field wall on Bernie Williams' one-out drive to left in the ninth.
David McCarty, 0-for-9 for the season, scored the go-ahead run after reaching on a wind-blown double that eluded left fielder Hideki Matsui.
"It's over with. We can't worry about it," Derek Jeter said of the series. "No matter how you look at it, it's one of 162 games."
Boston scored once in each of its last four innings.
After McCarty's one-out double, he took third on a groundout and scored on Kapler's sharp single to center off Tom Gordon (0-1).
Mike Timlin (1-1) got the win.
Foulke finished for his third save in three chances.
"If we don't do our job there and they come out with the split, it's almost like the first two games are a waste," Foulke said.
Kevin Brown, in his first start since his 200th victory, allowed four runs in six-plus innings.
"I'll take the credit for that (loss). I had a lead and didn't hold it," he said.
Tigers 10, Indians 4
Cleveland -- Indians reliever Jake Westbrook pitched seven perfect innings, but Rondell White hit a three-run homer in Detroit's six-run eighth.
Westbrook, who struck out seven in seven innings, came on to pitch with the Indians trailing 4-0 in the first inning following a 65-minute rain delay. Before the rain shower and hailstorm, Indians starter Jeff D'Amico gave up four runs. In 12 minutes, D'Amico faced six batters and did not get an out.
Rafael Betancourt (0-2) replaced Westbrook to start the eighth and gave up White's third homer of the season. Brandon Inge added a three-run double off Scott Stewart.
Al Levine (1-0) pitched 1 1/3 hitless innings for the win.
Copyright 2018 The Associated Press. All rights reserved. This material may not be published, broadcast, rewritten or redistributed. We strive to uphold our values for every story published.