OKLAHOMA CITY — Hundreds of people gathered Monday at the site where the Alfred P. Murrah federal building once stood -- staying silent for 168 seconds, marking one second for each person killed in the bombing nine years ago.
Children of the victims then recited the names of the dead.
"These children, like all of you and our city, are portraits of our survival," Frank Hill, chairman of the foundation that supports the Oklahoma City National Memorial, told the crowd.
The commemoration Monday began at 9:02 a.m., the minute the Murrah building was destroyed by a fuel oil and fertilizer bomb on April 19, 1995.
Jason Smith, 31, read names including that of his mother, Linda McKinney, who had worked at the Secret Service office on the ninth floor.
"Even though it's been nine years and a lot of us have moved on in our lives and grown, it's nice to take a step back and remember that fateful day and honor their memory," he said.
Also attending were 13 family members of victims of the Sept. 11 terrorist attacks, many of whom have become close to those who lost loved ones in Oklahoma City.
"They're ahead of us on the path, and they've kind of been pulling us along," said Barbara Salvadore, whose brother, New York City firefighter Lt. Peter Freund, died in the attack on the World Trade Center.
Meanwhile, a state trial continued in McAlester for Terry Nichols, who is accused of helping Timothy McVeigh build the explosive and pack it inside a truck the day before the bombing.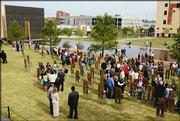 Nichols, 49, is already serving a life sentence on federal convictions for his role in the bombing. He is now on trial for 161 counts of first-degree murder for the deaths of the other 160 victims and one victim's fetus.
McVeigh was convicted on federal bombing charges and executed in 2001.
Copyright 2018 The Associated Press. All rights reserved. This material may not be published, broadcast, rewritten or redistributed. We strive to uphold our values for every story published.