Houston — Roger Clemens walked off the mound to a standing ovation after a series of blistering fastballs.
Clemens had just fanned his last batter of the day, an appropriate way to exit his 313th win. Not bad for a 41-year-old pitcher who briefly called it quits.
The Rocket still has plenty of fuel left, perhaps enough to get the Houston Astros to the World Series for the first time in the franchise's 42-year history.
"The thing that I'll take from today ... was that I didn't get winded this time," Clemens said after beating the Milwaukee Brewers, 6-1, on Sunday. "I got a second wind and got a little stronger as I went."
Clemens (3-0) struck out seven in seven innings, giving up just one run and four hits to lead the Astros to their seventh win in eight games. The win moved Clemens within one of Gaylord Perry for 15th on the career list.
Thus far, Clemens has clearly been the same power pitcher he was with Boston, Toronto and the New York Yankees -- only two of his first 30 pitches Sunday dipped below 90 mph.
In his three starts with the Astros, Clemens has allowed just seven hits and two runs for an earned-run average of 0.87.
Clemens finished with a flourish, getting five of his final six outs on strikeouts. His final pitch -- the 100th of the day -- was a 94 mph fastball that left Milwaukee's Brooks Kieschnick swinging at air.
That whiff brought the Minute Maid Park crowd of 38,195 to its feet.
"You would run through a brick wall for the guy," Astros left fielder Lance Berkman said. "He has a lot of enthusiasm, and it pumps the rest of us up."
It's hard to imagine a better homecoming from a guy who ended his career -- albeit for only 78 days -- after the Yankees lost the World Series to the Florida Marlins last October.
"He's a superstar pitcher," Brewers manager Ned Yost said. "He knows what it takes to get to that stature. ... Anytime (pitchers) can watch a guy of that magnitude pitch, hopefully they can pick up a little bit."
Clemens has picked up a few other skills along the way, too.
He added the second RBI of his career Sunday, driving in Brad Ausmus with a single to right field. Clemens' other RBI came June 20, 2002, against Colorado when he was with the Yankees.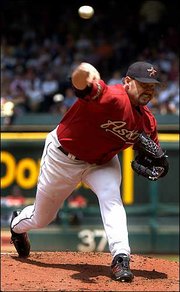 "Hitting is still difficult, and it's not a lot of fun when you're not good at it," Clemens said. "But you're just trying to make contact and make something happen."
Clemens is making believers of those who wondered if he had anything left in the tank after 20 seasons in the American League.
He's certainly looked much better in the twilight of his career than another future Hall of Famer, Greg Maddux, who is 0-2 with an 8.62 ERA with Chicago.
Maddux was supposed to help the Cubs get back to the World Series after decades of futility, but early on, it has been a rough reunion with Chicago just 7-6.
Meanwhile, Houston has tied a franchise mark for best start with a 9-4 record after 13 games. The Rocket has been the perfect boost to the National League's top hitting and scoring team.
"When you have a pitcher that's throwing strikes and players putting the ball in play and making easy catches," second baseman Jeff Kent said, "it makes for an easy ballgame."
Copyright 2018 The Associated Press. All rights reserved. This material may not be published, broadcast, rewritten or redistributed. We strive to uphold our values for every story published.