Baghdad — As the fighting in Iraq widened and the death toll continued to mount on Sunday, Spain's new prime minister said he had ordered his country's troops out of Iraq as soon as possible and the top U.S. civilian administrator conceded that Iraqi police and security forces aren't ready to protect the country from insurgents.
A dozen American soldiers died on Saturday, 10 of them in action and two in accidents, bringing the number of American soldiers killed in action in Iraq so far this month to 98, more than died from enemy fire during the U.S.-led invasion a year ago.
Facing a self-imposed June 30 deadline to return sovereignty to an interim Iraqi government that still hasn't been chosen, the Bush administration is now fighting to keep roads and supply lines open, battling insurgents virtually nationwide and trying to hold together an international coalition strained by killings, kidnappings and now by Spain's withdrawal.
An Egyptian news agency on Sunday quoted Spain's new foreign minister, Miguel Angel Moratinos, as saying that Spain plans to withdraw its 1,300 troops from Iraq within 15 days.
The White House said it had expected the move, which new Socialist Prime Minister Jose Luis Rodriguez Zapatero had promised, but Sen. John Warner, R-Va., the chairman of the Senate Armed Services Committee, on Sunday called it "troublesome," saying: "It will put pressure on the other coalition nations that have joined in this, I'm sure."
Sen. John Kerry, the presumptive Democratic presidential nominee, charged Sunday that the Bush administration has been "stunningly ineffective" on Iraq and said it would take a new president to build a broader international coalition there.
Battle zone widens
The U.S.-led coalition is facing separate Sunni and Shiite Muslim uprisings, and the fighting widened on Saturday when five Marines were killed after they were ambushed on the Syrian border. That prompted Air Force Gen. Richard Myers, the Chairman of the Joint Chiefs of Staff, to demand that Syria do more to prevent foreign fighters from crossing into Iraq.
Iraqi security forces will not be ready to safeguard the nation against militants by the June 30 power transfer, U.S. civilian administrator L. Paul Bremer said Sunday.
Roadside bombs and ambushes continue to bedevil U.S. and allied troops, and coalition forces kept the major highways out of Baghdad closed on Sunday. The road west to Jordan has been closed since fighting intensified earlier this month in Fallujah.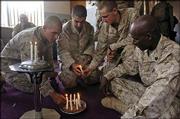 Despite an announcement that some convoys are moving again, soldiers in Baghdad have complained that they're afraid they'll be back on Meals Ready to Eat -- prepackaged, long-storing "foods" -- because not enough fresh supplies are coming from Kuwait and Jordan.
The most intense fighting this weekend occurred in Husaybah, a small city along the Syrian border. According to U.S. military officials, the explosion of a roadside bomb drew Marines to investigate about 300 yards from the border, where they were ambushed by an estimated 120 to 150 insurgents.
The fighting lasted for as long as 14 hours, military officials said, estimating that 25 to 30 Iraqis were killed.
Tense peace
In Fallujah and Ramadi, a shaky peace continued to hold on Sunday, and sites were designated in the city for guerrillas to surrender weapons such as missiles, mortars and rocket-propelled grenades.
Talks were scheduled to continue on Tuesday in Baghdad between community leaders and coalition representatives. More than 2,000 Marines remain dug in around the mostly Sunni Muslim town, and coalition officials have said they're prepared to resume offensive operations if talks fail to produce progress.
The other flashpoint in Iraq remains Najaf, where 2,500 American soldiers have joined a Spanish contingent in an attempt to shut down outlawed Shiite cleric Muqtada al-Sadr.
A spokesman for al-Sadr, who's wanted on murder charges, told a news conference that the cleric's Mahdi Army militia would focus its efforts today and Tuesday on protecting Shiites coming to pray at the Grand Imam Ali Mosque during a holiday commemorating the Prophet Mohammed's death.
The Mahdi gunmen withdrew to a tight perimeter around the Grand Imam Ali Shrine and the Kufa Mosque on Sunday, and were splitting guard duty with another Iraqi Shiite militia, the Badr Brigade, which last year supposedly disarmed at the request of the Americans.
The pro-Iranian brigade, which according to its leaders has evolved into more of a social service organization, is said to be under the control of Iraq's leading grand ayatollah, Ali al Husseini al Sistani, who opposes al-Sadr.
Attempts to negotiate a compromise over al-Sadr with the Americans remained at a standstill, spokesman Qais al Khazali said on Sunday.
His supporters in Baghdad, however, said they were firmly behind the young cleric.
"We are not unfamiliar with the fight against those who oppose the truth of Islam," said Hasim al Araji, who runs al-Sadr's Baghdad office. "Many will rise to fight for him if the Americans attack our city of peace."
Copyright 2018 The Lawrence Journal-World. All rights reserved. This material may not be published, broadcast, rewritten or redistributed. We strive to uphold our values for every story published.