Balkonur, Kazakhstan — A Russian rocket roared into space today carrying an American, a Russian and a Dutchman to the international space station on the third manned mission since the halt of the U.S. shuttle program.
American Michael Fincke, Russian Gennady Padalka and Andre Kuipers of the Netherlands, representing the European Space Agency, were to spend two days en route to the ISS aboard the Soyuz TMA-4 spacecraft. The Russian-built capsule is the only means to get to the orbital outpost since the suspension of U.S. space shuttle flights after the February 2003 Columbia disaster.
"Our Russian partners are picking up the ball," Fincke, 37, said. "It's very symbolic what we can do when people all over the world work together."
Just before boarding the spacecraft, the three paused to wave farewell to relatives, space officials and others who had traveled to the desolate Baikonur cosmodrome, in the steppes of Kazakhstan. Padalka held up two fingers in a victory sign, Fincke gave a thumbs-up, and Kuipers brandished a clenched fist.
Russian, U.S. and European space officials watched the crew on a monitor from Russian Mission Control outside Moscow. The three astronauts waved and blew kisses from inside the capsule before blasting off. They shook hands after the spacecraft entered orbit approximately nine minutes after the 7:19 a.m. (10:19 p.m. CDT Sunday) liftoff, having shed its boosters along the way.
Applause rippled through Mission Control as the spacecraft reached orbit and its solar panels unfolded.
Padalka and Fincke, who were initially trained to fly on a U.S. shuttle, will spend 183 days on the space station. Kuipers will return after nine days with the station's current crew, U.S. astronaut Michael Foale and Russian cosmonaut Alexander Kaleri, who have been in orbit since October.
The mission fulfills a lifelong dream for Fincke, a Pittsburgh native who as a child donned cardboard wings and made his siblings play Star Trek.
"He always knew that he would fly," Fincke's father Edward said before the launch. "I'm so happy. I want to cry."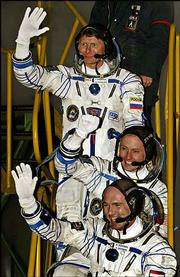 Copyright 2018 The Associated Press. All rights reserved. This material may not be published, broadcast, rewritten or redistributed. We strive to uphold our values for every story published.