STRONG CITY — In the Flint Hills, burning pastures is an essential rite of spring that assures fresh grass for fattening cattle.
But now state health officials want ranchers to restrict the time-honored practice, saying it contributes to Kansas City air pollution.
Those who depend on the grazing lushness brought by the annual burns say they can't understand the fuss being raised by the bureaucrats.
Long before cattlemen began their April ritual of setting fire to the rolling pastures, Mother Nature did it with lightning. The flames not only eliminated dead, nutritionless grass, clearing the way for the new crop, but over the years it kept trees and shrubs to a minimum. Most ranchers say that burning adds an additional 25 pounds of market weight to each steer grazed on burned pasture.
Torching pastures over such a large area, from Nebraska to Oklahoma, is unique in America. Chase County alone, west of Emporia, has more than 400,000 acres of pastures.
Last year, because of weather conditions, most Flint Hills pastures were burned in three days: April 10, 11 and 12. Atmospheric conditions didn't allow the smoke and air pollutants to dissipate and they moved slowly across the Kansas City area. Flint Hills smoke is credited with causing air quality monitors in Kansas City to exceed federal ozone standards on two consecutive days last April.
Air quality concerns are heightened this year because new federal standards went into effect Thursday. And by August, Kansas City is expected to be in violation, which could trigger regulations requiring residents and industry to spend hundreds of millions of dollars to clean up the air.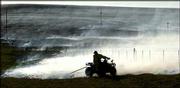 Last month, Clark Duffy of the Kansas Department of Health and Environment sent a letter to Flint Hills area fire chiefs and county agents asking them encourage cattle producers to spread out the pasture burning from February to May. It was noted that Kansas State University Konza Prairie research had shown that spreading the burns would be possible "if the conditions were right."
But Chase County Extension agent Mike Holder said, "The problem with K-State's research is that it's done on ungrazed pasture. It's possible but not practical."
The health department also asked ranchers to burn only 160 acres at a time instead of up to thousands of acres.
"Over a cup of coffee some ranchers figured it would take seven years to burn Chase County," Holder said.
And ranchers say limiting burns to 160 acres will be difficult because fires don't burn themselves out after 160 acres. They also argue that to begin burning in February would be useless because the weeds and saplings that invade the prairie would still be dormant and would not be killed by fire.
The Flint Hills, like most of Kansas, is in the fourth year of a drought. Most of last year's grass is shorter and thinner than usual, making it difficult to burn. Many ranchers have chosen not to burn this year, not because of officials' concerns but because the conditions for burning haven't been right.
Joe Mushrush, a third-generation Strong City rancher, has an animal science degree from K-State and has kept a close eye on the tall prairie grasses in the Flint Hills.
"It's a rule of thumb that you burn two consecutive years out of five," he said last week. "But if it's a year when you can burn ... you'd better."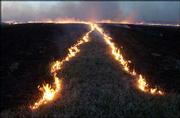 Though the main polluters in the Kansas City region are thought to be vehicles and industry, Environmental Protection Agency officials have said it was possible that the recommended prairie-burning restrictions could someday become mandatory if ranchers did not comply.
"Hopefully we can develop a collaborative plan that recognizes the importance of burning in the Flint Hills but also recognizes the importance of clean air in Kansas City," said Jim Gulliford, EPA's Region 7 administrator.
Kansas officials said air quality in Kansas City had not yet been affected so far this year, and they didn't foresee the burning rules becoming mandatory.
Copyright 2017 The Lawrence Journal-World. All rights reserved. This material may not be published, broadcast, rewritten or redistributed. We strive to uphold our values for every story published.