If there's one fund-raiser that many Lawrence artists seem more than happy to participate in each year, it's the Lawrence Art Auction, an event that helps fund the gallery exhibition program at the Lawrence Arts Center, 940 N.H.
Just look at the numbers. One hundred and ninety artists, most of whom live in Lawrence or the surrounding area, have donated pieces of their artwork for this year's auction, set for Saturday at the center.
They have donated 70 pieces for the event's live auction and another 140 for the silent auction.
For Rick Mitchell, the center's gallery director, who is organizing the event for the 11th time, the process of enlisting the participation of Lawrence artists is an easy one.
"The auction gets more popular with artists as time goes by. This year we have 190 who are participating, which is right up there with the highest numbers we have ever had," he said.
"We are grateful to the artists who contribute so unselfishly to this event. There are a lot of artists who just drop off their work for the auction and say, 'I hope it makes a lot of money for you.'"
The event has doubled in size since 1994, according to Mitchell. It now has twice as many artists participating, twice the number of people attending (600 in 2003) and twice the amount of money being raised.
The 2003 art auction raised $62,609.76 for the center's program.
"We're trying to meet last year's goal. We're always hopeful that we can inch it up, and we've done that year after year," Mitchell said.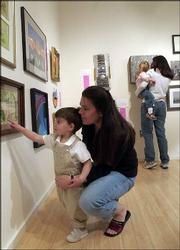 But there's another figure that's important to Mitchell.
"Our goal is to sell the art at auction for its retail market value or above. The artists have been so generous ... we try to sell the art for what it's worth."
In 2002, the artworks drew 98.4 percent of their retail market value.
"It is a fund-raising event. We want people to come in a generous spirit, make a gift to the Lawrence Arts Center and take a wonderful piece of art home with them," Mitchell said.
Mainstay of arts community
Among those who have donated artwork this year is Lisa Grossman, a plein-air landscape painter (plein air is a French term for painting outdoors in the open air).
The Lawrence artist, who has a bachelor's degree in painting and printmaking from Kansas University, has donated a small landscape for the auction. The framed oil painting has a retail value of $600.
The 24th annual Lawrence Art Auction -- a major fund-raiser for the Lawrence Arts Center -- will be Saturday at the center, 940 N.H.Doors open at 6 p.m., when participants can enjoy hors d'oeuvres, listen to music by the Alferd Packer Memorial String Band and view artwork in the gallery. This is the time to make your final silent auction bids and decide on your favorite live auction items.Then participants will move to the auditorium, where the auction will begin at 7:30 p.m. Wine, cheese, desserts and music will be available throughout the evening.More than 100 items will be available in the silent auction. Successful bids will be announced during the live auction. Bids must be recorded by 7:15 p.m. Saturday.An additional 80 works of original art will be auctioned live by volunteer auctioneer Kasey Wold beginning at 7:30 p.m.The featured artist is Lawrence sculptor Jim Brothers, who has donated a bronze casting titled "Promise," valued at $3,400.The preview exhibition -- offering the opportunity to view all the artwork and make bids in the silent auction -- is from 9 a.m. to 9 p.m. Monday through Friday, and from 9 a.m. to 5 p.m. Saturday, at the Lawrence Arts Center.Tickets can be purchased in advance for $15 at the arts center, or for $20 at the door Saturday evening. With your tickets, you will receive a bidder number for bidding in the live auction.All proceeds benefit the Lawrence Arts Center, which will use the money to fund its Gallery Exhibition Program. Corporate sponsors are Robert W. Baird and Co., Inc., of Lawrence, and Intrust Bank.For more information, call 843-2787.
"I've donated for the last five years or so. I just think it's satisfying to be able to use my work to support the organizations and causes I believe in, and the Lawrence Arts Center is definitely one of them," she said.
"They do an excellent job of supporting all of the art in this community, and it feels good to be able to give something back."
Grossman's work -- a series of Kansas River oil-painting landscapes, watercolors and prints -- will be exhibited June 1 through July 15 in the small gallery at the arts center.
Ron Hinton, a Lawrence metalsmith, has donated his work for the art auction for more years than he can recall.
"That's a good question -- I can't remember when I haven't. I've donated art for at least 20 years. That's probably about right," Hinton said.
Hinton served as president of the arts center's board of directors in 1994 and 1995 and as a board member from 1992 to 1996.
"I have always supported the center and will continue to. Lawrence is known for its arts, and having the arts center is one of the community's mainstays. It's a great place for shows, people and classes," he said.
Hinton, who has bachelor's and master's degrees in jewelry and silversmithing from KU, has donated a wall piece fabricated from bronze, copper and stainless steel titled "Fence." Its retail market value is $600.
Making arts accessible
Jeff Barnett-Winsby, a Lawrence photographer, is one of the younger artists who has donated work for the auction. Barnett-Winsby, 24, is a 2003 graduate of Washburn University with a bachelor's degree in art with an emphasis in photography.
This is the second year he has donated a piece for the event.
"I just walk through the neighborhoods of Lawrence and photograph," he said. "I often run into this boy when I'm walking, and he asked me if I wanted to take his picture. Then he posed for me. I would like it (the photo) to get out because I really enjoy it, and I felt the art auction would be a good place to do it. It's really crisp and clean."
The black-and-white, untitled photograph was taken in the summer of 2003 and has a retail market value of $400.
"I feel like the arts center, if it in any way helps the accessibility of art to the average person, that's something I certainly want to support," he said.
Copyright 2018 The Lawrence Journal-World. All rights reserved. This material may not be published, broadcast, rewritten or redistributed. We strive to uphold our values for every story published.