Earth Day activities in Lawrence begin Thursday, and organizers say this year they want to raise awareness of water pollution and ways to prevent it.
Patty Ogle, storm water quality technician for the city, said some people incorrectly blame agriculture for all pollutants in water.
"Actually, individuals as homeowners and property owners are contributing just as much to pollution," Ogle said.
Rainwater will be one of many water-related topics discussed Saturday at South Park after the Fourth Annual Parade for the Earth, Ogle said.
There will be hands-on activities and displays to show homeowners how they can contribute to improving water quality. Simple things such as picking up pet waste do a lot to alleviate the problem, Ogle said.
Earth Day participants also will have the opportunity Saturday to tour the Bowersock Mill & Power Co. behind City Hall. It is the only hydroelectric power plant in Kansas.
Diana Sjogren, waste reduction and recycling specialist for the city, said the weeklong festivities offer something for everyone.
"With the multiple facet of activities that are going on in Lawrence, I think a wide audience will be reached," she said.
A lecture by E.O. Wilson on Thursday night at the Lied Center will kick off Earth Day events. Wilson is the Pulitzer Prize-winning author of "The Future of Life."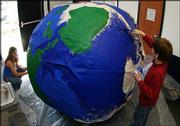 "We're dealing with a person often renowned to be one of the most important thinkers of the 20th century," said Victor Bailey, director of the Hall Center for the Humanities.
Bailey said Wilson could talk about environmental issues in a balanced manner: "He is not suggesting that you do something that requires you to stop all economic growth. You can have economic growth at the same time you save the planet."
Park ranger Kipp Walters expects the annual Clinton Lake Cleanup to draw as many as 400 people. Last year, volunteers collected 1,500 pounds of trash and were able to recycle more than half.
"(Trash) really accumulates out here," Walters said. "I'm not sure why people don't just throw it in a trash can."
Earth Day, April 22, was founded by former U.S. Sen. Gaylord Nelson of Wisconsin and was first celebrated in 1970. Even though Earth Day has been around 34 years, Jennifer Delisle, Jayhawk Audubon Society treasurer, said it was still relevant.
Thursday¢ Lecture by E.O. Wilson, Pulitzer Prize-winning author of "The Future of Life," 7 p.m., Lied CenterSaturday¢ Fourth annual Parade for the Earth, 11 a.m., Watson Park to South Park¢ Celebration in the park, featuring a water festival, "April Showers to Water Towers," noon to 4 p.m., South Park¢ Bowersock Mill & Power Co. tours, 1 p.m. and 3 p.m.April 22 (Earth Day)¢ Slide show & lecture by Eric Drooker, 7 p.m., Kansas Union BallroomApril 24¢ Clinton Lake Cleanup, 9 a.m. to 1 p.m., meet at shelter No. 1 in Overlook Park¢ Earth Day activities at Prairie Park Nature Center, 10 a.m. to 4 p.m. 2730 Harper St.
"It's not an outdated concept," Delisle said. "We should still celebrate Earth Day. People should come out and have fun."
Sjogren said everyone should take time to participate in a least one of the Earth Day events. She said the Earth must stay in the forefront of people's minds, despite life's hectic pace.
"In the hustle of daily life, we cannot forget the planet we live on, both in legislation and in our practices of our daily lives," she said. "Earth Day is a time to pause and remember."
Copyright 2018 The Lawrence Journal-World. All rights reserved. This material may not be published, broadcast, rewritten or redistributed. We strive to uphold our values for every story published.