A downtown restaurant building that has been vacant for nearly five years is about to become a new office building.
Work has begun to convert the former Willie C's Cafe & Bar at 616 Vt. into an office building.
The McFadden Group, an accounting firm, and Professional Engineering Consultants, an engineering company, are expected to move into the building in mid-May.
The building had been vacant since Willie C's, a Wichita-based Tex-Mex restaurant, closed in the summer of 1999.
Brenda McFadden, owner of The McFadden Group, said she was pleased the building was being converted into office space.
"That probably makes more sense," said McFadden, who will have a partial ownership interest in the building. "The parking was always a problem for retail or a restaurant to locate there, not to mention it is a one-way street. We think it really lends itself to what we want to do."
Gary Mohr, Lawrence office manager for Professional Engineering Consultants, said the design of the building, which was built to look like an old-fashioned ice house, should make for a distinctive office development.
"I think it will turn out real nice," Mohr said. "It is a great building because it has that historic look."
The 6,400-square-foot building will be split between the two businesses. Officials from both companies said the new space should allow for expansion.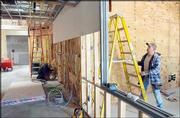 Mohr said the downtown location would give Professional Engineering Consultants, 1820 W. Sixth St., "quite a bit" of expansion capabilities. He said the company likely would add two engineers to its staff of six. McFadden said her company, 825 Vt., was looking to add two employees to its staff of seven.
Copyright 2018 The Lawrence Journal-World. All rights reserved. This material may not be published, broadcast, rewritten or redistributed. We strive to uphold our values for every story published.