New York — Frank Quattrone, the investment banker whose Internet-boom success brought him huge wealth and star status in his industry, returns to court today for a second trial on obstruction of justice charges.
His first trial ended in a mistrial in October, with jurors deadlocked -- but a majority leaning toward conviction -- on charges that Quattrone tried to hinder a 2000 federal investigation into stock allocation by his bank.
Federal prosecutors in New York enter the retrial fresh off a victory in their highest-profile white-collar case -- a conviction of Martha Stewart in March on charges of obstruction, conspiracy and lying to investigators.
In the Quattrone case, they must show the banker acted with criminal intent on Dec. 5, 2000, when he endorsed a colleague's e-mail that urged employees to "catch up on file cleaning" by destroying some files.
The 48-year-old former Credit Suisse First Boston banker is charged with obstruction of justice, obstructing the Securities and Exchange Commission and witness tampering.
Among the key questions for the retrial: Will Quattrone take the stand again in his own defense?
Some jurors said after the first trial that Quattrone hurt his own case by appearing combative on the stand and appearing to contradict his lawyer's assertion that he had no involvement in how CSFB doled out stock shares.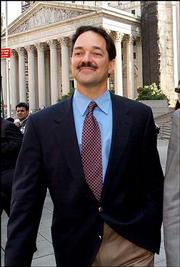 Copyright 2018 The Associated Press. All rights reserved. This material may not be published, broadcast, rewritten or redistributed. We strive to uphold our values for every story published.