Site station closes
A longtime Lawrence gasoline station at 23rd Street and Haskell Avenue has closed.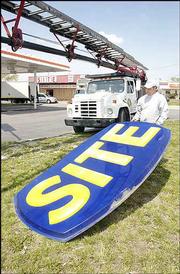 The Site Mini-Mart, 946 E. 23rd St., closed Friday. The business is boarded up and its pumps have been removed. County records list the Flash Oil Corp., Clayton, Mo., as the owner of the property. Attempts to reach officials at the company were unsuccessful. Several workers who were packing supplies Monday at the station also declined to comment, other than to say the company made a business decision to close the station.
Conference
Small-business seminar set for Monday at JCCC
Rep. Dennis Moore will play host to a Small Business Resource Conference on Monday in Overland Park.
The purpose of the conference is to expand marketing opportunities and provide an overview of financing options for small businesses.
The conference will feature Kansas Insurance Commissioner Sandy Praeger, Lawrence, who will speak about insurance options for small businesses.
The conference will be from 8 a.m. to 1:30 p.m. Monday at Johnson County Community College. To register, contact Moore's office at (913) 383-2013. A registration fee of $20 includes lunch.
Earnings
K.C. pasta firm lowers forecast, cites diet trend
American Italian Pasta Co., the largest pasta maker in North America, on Monday cut its earnings forecast, blaming declining sales on trendy low-carbohydrate diets.
Shares of the Kansas City, Mo.-based company closed Monday at $34.37, down $3.61, or 9.5 percent, on heavy volume on the New York Stock Exchange. The day's weakest level of $33.89, at that point, was a 52-week low surpassing the prior low of $36.08 set Nov. 5.
Investigation
Goodyear probe finds more accounting woes
Goodyear Rubber & Tire Co. on Monday said it would reduce its reported profit for the past six years by another $65 million because of improper accounting at its overseas operations and other reasons.
The Akron, Ohio-based company said an internal investigation of overseas accounting was complete. It said the entire results of the probe were still under review but that net income between 1997 and 2003 would have to be reduced by $10 million.
The other $55 million is because of understatement of workers' compensation claims at an undisclosed domestic plant, adjustment of profits tied to internal inventory and other issues, Goodyear said.
Goodyear operates a manufacturing plant in Topeka.
Copyright 2018 The Lawrence Journal-World. All rights reserved. This material may not be published, broadcast, rewritten or redistributed. We strive to uphold our values for every story published.