Jerusalem — Israel's ruling Likud Party will have its vote on a Gaza Strip withdrawal by late April, sooner than expected, officials said Friday, prompting complaints that Prime Minister Ariel Sharon was rushing the referendum to stifle opposition.
Israel TV reports said the vote on the plan would take place April 29.
Defense Minister Shaul Mofaz, meanwhile, said sending Israeli settlers to Gaza in the first place "was a strategic error," an unexpected acknowledgment that contradicts Likud's hard-line ideology.
About 7,500 Israelis live in 21 enclaves in Gaza, among 1.2 million Palestinians. Sharon, once a driving force behind Gaza settlement, has said there was no future for Israelis in the crowded, impoverished strip.
In Gaza, hundreds of Palestinians donated cash, jewelry, bullets and even hand grenades to Hamas in an unprecedented fund-raiser by the Islamic militant group.
Hamas announced in mosques Friday that it needed money to fight Israel. The group is also in the midst of negotiations with the Palestinian Authority over who will control Gaza after an Israeli withdrawal, and the collection drive was seen as a show of strength by the increasingly popular opposition group.
Sharon has said he is determined to go ahead with a pullback from Gaza and withdraw from four small West Bank settlements, but only after winning the approval of Likud.
Several Likud Cabinet ministers and legislators oppose the withdrawal, and have begun campaigning among the 200,000 party members against the plan.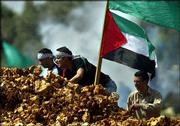 Sharon initially said he would not call for the referendum until he returned from a Wednesday meeting with President Bush in Washington. However, Sharon unexpectedly submitted a formal request Thursday. Under bylaws, the referendum must now take place within three weeks.
Sharon adviser Raanan Gissin said the prime minister wanted "to do it (the referendum) as quickly as possible to get it out of the way."
Political sources said Sharon decided to speed up the timetable to leverage the momentum from his Washington trip and to make it harder for the opposition within Likud to organize.
Sharon has said he will honor the outcome of the referendum.
Copyright 2018 The Associated Press. All rights reserved. This material may not be published, broadcast, rewritten or redistributed. We strive to uphold our values for every story published.