When No. 10-ranked Wichita State blasted two of the first three pitches of the game into the parking lot beyond the outfield walls, it looked as if Kansas University's baseball team was going to have a rough day against its in-state rival.
Wichita native and KU outfielder/second baseman Matt Baty wasn't going to allow his hometown Shockers off the hook so easily, however. Baty, a sophomore, crushed his first collegiate home run on the first pitch of the bottom of the first and ignited a massive KU hitting spree that culminated with a 13-6 Jayhawk victory Wednesday night at Hoglund Ballpark.
Nick Blasi sent KU starter Scott Sharpe's first pitch of the first inning out of the park, and Phil Napolitan homered on the third pitch, sparking a 3-0 WSU lead after a half-inning. The Shockers already had four hits, but they collected only four more the rest of the way.
Baty's leadoff blast calmed KU's nerves quickly.
"I'd say that gave us momentum to win the game right there, from the very first pitch," third baseman Travis Metcalf said of Baty's blast to left-center field. "It was like we were in a fight. We got hit first but Baty helped us respond and hit right back."
Ritchie Price reached base on an error and catcher Sean Richardson smashed a two-run homer that tied the game. Matt Tribble later scored and suddenly Kansas led 4-3 after one inning.
Sharpe and reliever Don Czyz got KU through the next four innings unscathed. The Shockers struck again in the sixth when Drew Moffitt laced a two-run homer off of Czyz and put WSU ahead 5-4.
KU (23-14-1 overall, 1-5 Big 12 Conference) answered again. Its first three batters walked, singled and reached on an error that allowed a run to score. Then Matt Baty slapped a two-run single up the middle. Ryan Baty doubled, Tribble walked and Metcalf crushed a 430-foot three-run homer to left-center field. By the time KU's eight-run outburst was finished, the game was well in hand.
"The No. 10 team comes in here," Matt Baty said, "and we're here to make sure the 'Hog's a tough place to play. Right now it is."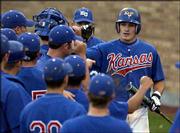 The Shockers (16-5) were forced to go five-deep in their bullpen, but nobody had an answer for the Jayhawks' sizzling swings. Pitching, normally a strong suit for the Shockers, was strikingly subpar. WSU used five pitchers who combined to allow 12 hits, seven walks and one hit batter.
"That was as miserable of pitching as you'll ever see from Wichita State," WSU coach Gene Stephenson said.
As well as Kansas was swinging the bats Wednesday night, the Shockers' top throwing performance might not have been good enough to corral the KU hitters. Regardless, the Jayhawks busted out of a three-game hitting funk at home and snapped a four-game losing skid.
"We needed that one, there's no doubt about it," KU coach Ritch Price said. "The thing I was most proud of was we got hit in the mouth in the first inning and we didn't back down. We turned around and answered right back and were as physical with the bat as they were."
Andy Scholl led all KU hitters with three hits, including a run-scoring triple in the sixth inning. Richardson, Metcalf and Matt Baty had two hits apiece.
The Jayhawks continue their homestand with a three-game weekend series against Texas A&M.; First pitch Friday is 6 p.m.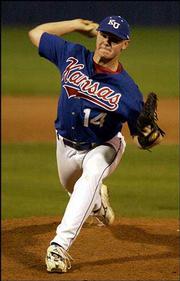 Copyright 2018 The Lawrence Journal-World. All rights reserved. This material may not be published, broadcast, rewritten or redistributed. We strive to uphold our values for every story published.