It took the Lawrence High girls soccer team a few years to finally clear the city showdown hump.
But sometimes, that makes winning even sweeter.
Behind a pesky defensive effort and a fine first-half goal by sophomore Whitney Lopez, LHS defeated Free State, 1-0, Tuesday at FSHS in the spring's first intracity game.
LHS hadn't won since 1998, though the teams did tie once.
"It was a great high school soccer game," LHS co-coach David Platt said. "We got a nice break on a set play and got a finish. That was the difference."
That break was in the 24th minute, when sophomore Kendal Forio lofted a free kick into the FSHS box. After rattling around for a second the ball ended up at Lopez's feet, and she calmly collected it and drilled a shot into the left-hand side of the goal past the outstretched arms of freshman goalkeeper Meghan Hrenchir.
"Kendal Forio put in an amazing cross," Lopez said. "I aimed for opposite side of the keeper."
It was the lone successful finish in a game that featured an abundance of prime scoring opportunities. Hrenchir recorded seven saves, getting a hand on a variety of shots from Lopez, sophomore Megan Johnson and freshman Abby Vestal, among others.
Meanwhile, Free State (0-2) had trouble unleashing crisp shots when given the chance. But too often, Lawrence's defense gave Free State's attackers, notably senior Rebekah Berkley and freshmen Lucca Wang and Clare Robinson, little to work with.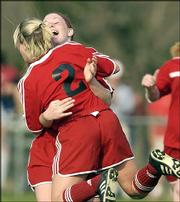 "I think, quite simply, they're a better team than us," FSHS coach Jason Pendleton said. "At the right spots, they're better than we are and executed at the right time and created a couple of dangerous scoring opportunities."
Senior goalkeeper Shannon Fisher recorded her first shutout of the year for the Lions (1-2). She got little work, recording just three saves, and the key to that, Platt said, was to limit the opportunities by Berkley, an All-State forward a season ago.
"Our midfielders did a nice job of marking," Platt said. "Nicolette Weil and Raya Bowden were getting the assignment, and they did a nice job of trying to keep on her so at least she felt pressure every time she touched."
Lawrence has little time to celebrate, and Free State has little time to mope. Each team returns to action Thursday, with LHS playing Olathe East and the Firebirds traveling to Olathe Northwest.
But, for now anyway, Lawrence High can soak in the bragging rights it earned on the soccer field Tuesday. It's OK. Remember, it's been awhile.
"Hopefully, this gives them some confidence, and hopefully it gets them to believe in themselves," Platt said. "This can't hurt."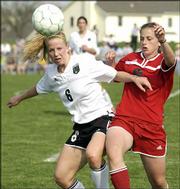 Copyright 2017 The Lawrence Journal-World. All rights reserved. This material may not be published, broadcast, rewritten or redistributed. We strive to uphold our values for every story published.