Minneapolis — Minnesota's reconfigured bullpen had a stellar season opener.
Cleveland can't say the same, though.
Shannon Stewart hit a three-run homer with two outs in the 11th inning, giving the Twins a 7-4 comeback victory over the Indians on Monday night.
The Twins lost their top two relievers -- Eddie Guardado and LaTroy Hawkins -- to free agency in the offseason. How the revamped bullpen holds up was a question mark coming into the season.
"We all did our job and gave us a chance to win," said J.C. Romero, one of five Minnesota relievers who pitched a scoreless inning. "That's what we're here for."
Travis Hafner hit two of Cleveland's three home runs, and Indians starter C.C. Sabathia pitched seven shutout innings with nothing to show for it.
"We had two guys we're counting on to take care of innings late in the game who didn't get the job done," said manager Eric Wedge, who watched his team get 17 hits but blow a 4-0 eighth-inning lead against the two-time defending AL Central champions.
There were actually three culprits for Cleveland -- Jose Jimenez and Scott Stewart in the eighth and Chad Durbin (0-1) in the 11th.
Matthew LeCroy walked against Durbin with one out, and rookie Joe Mauer singled. With two outs, Shannon Stewart hit a 1-1 pitch to left to end it.
"It's good to help the team out," he said. "Very exciting."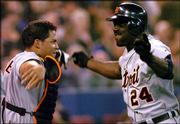 Juan Rincon (1-0) worked a scoreless 11th after Joe Nathan nearly gave up a run in the 10th. Omar Vizquel doubled into the right-field corner, but Matt Lawton was out at home on a perfect relay throw by second baseman Michael Cuddyer.
Mauer, who started the eighth-inning rally with a walk, singled leading off the ninth for his first major-league hit. The 20-year-old catcher, who grew up in St. Paul just a few miles from the Metrodome, was on base four out of five times. Coco Crisp stole second base and beat a high throw from Mauer after a pitchout in the eighth inning.
Twins starter Brad Radke, beginning his 10th major-league season and pitching on opening day for the eighth time, wasn't sharp. He allowed four runs, two earned, 11 hits and three homers in six innings.
Tigers 7, Blue Jays 0
Toronto -- Ivan Rodriguez and Rondell White homered in their Detroit debuts to back the pitching of Jason Johnson, another new addition.
Last year, Detroit began 0-9 and set an American League record with 119 losses. The Tigers, who hadn't won an opener since 2000, spent the offseason trying to rebuild a franchise that hasn't finished with a winning record since 1993.
Rodriguez, a 10-time All-Star who helped Florida win last year's World Series, homered in a three-run sixth inning. White added a three-run homer off Roy Halladay in the seventh.
Halladay, the reigning AL Cy Young Award winner, was knocked around for seven runs -- six earned -- and 10 hits in 62/3 innings. Halladay, who struck out nine, dropped to 9-2 against the Tigers.
Athletics 5, Rangers 4
Oakland, Calif. -- Pinch-hitter Eric Byrnes hit a two-run double with two outs in the eighth, and Oakland rallied for a victory over Texas. Byrnes, who began the season on the bench after a breakout 2003 season, connected against Ron Mahay, and rookie Bobby Crosby scored the go-ahead run. New Oakland closer Arthur Rhodes pitched the ninth for his first save.
Copyright 2018 The Associated Press. All rights reserved. This material may not be published, broadcast, rewritten or redistributed. We strive to uphold our values for every story published.