Indianapolis — Another season, another division title for Rick Carlisle.
Ron Artest had 21 points and nine rebounds and the Indiana Pacers clinched the Central Division title with a 111-78 win over the Milwaukee Bucks on Wednesday night.
Carlisle joined Pat Riley as the only coaches in NBA history to win a division title in each of their first three years coaching. Carlisle was tops in the division twice with Detroit before coming to Indiana this year.
"I've been lucky. I've had good players all three years," Carlisle said. "It's great fortune for me."
More importantly to Carlisle, the NBA-leading Pacers (55-20) also secured homecourt advantage throughout the Eastern Conference playoffs by beating the Bucks for the first time in four tries this season.
"This team has done something to this point that a lot of people probably believed wasn't going to happen," Carlisle said of the top seed in the East.
Still, the Pacers are eyeing something bigger -- the best record in the NBA, which would give them homecourt in the NBA Finals.
"We've got a bigger goal to deal with and that's trying to get the playoffs throughout," Jermaine O'Neal said. "We want to make sure the entire playoffs come through here."
The fact that all those accolades came with a win over the Bucks was that much sweeter for the Pacers.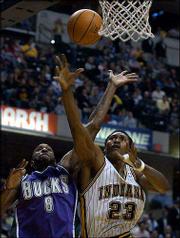 Milwaukee had won four in a row over Indiana, including a 95-86 home win on Tuesday night. They did it by shooting well and playing physical defense.
Milwaukee did neither Wednesday.
The Bucks shot just 37 percent and allowed the Pacers to shoot 56 percent in the blowout.
"We just didn't come out and compete and play with a purpose, that's probably the most disappointing," Milwaukee coach Terry Porter said.
Jazz 89, Hornets 76
Salt Lake City -- Mikki Moore scored all 15 of his points in the fourth quarter to lead Utah past New Orleans, taking a slight lead in the fight for the final playoff spot in the Western Conference. Gordan Giricek scored 19 points and Carlos Arroyo had 12 points and five assists for Utah, which won for the fifth time in seven games in the final push for the playoffs.
Blazers 105, Celtics 98
Boston -- Darius Miles scored a career-high 31 points and led a third-quarter surge that carried Portland to win over Boston. Miles had 10 points as Portland opened the third quarter with a 20-6 run that turned a 51-48 halftime deficit into a 68-57 lead.
Warriors 85, Raptors 78
Toronto -- Jason Richardson had 25 points and Golden State handed Toronto its fifth straight loss. Erick Dampier had 14 rebounds before leaving the game late in the fourth quarter after rolling his left ankle on the foot of Toronto's Jalen Rose. Golden State has won eight of nine. Vince Carter scored 22 points for the Raptors.
Bulls 109, Magic 91
Orlando, Fla. -- Jamal Crawford had 27 points and nine assists, and short-handed Chicago snapped a five-game losing streak by Orlando matchup between the teams with the NBA's worst records. Jannero Pargo added 25 points in his first start, and Eddy Curry had 24.
Nets 103, Wizards 99, OT
Washington -- Richard Jefferson had 28 points and a season-high 14 rebounds, and New Jersey broke a three-game losing streak by beating Washington in overtime. Lucious Harris added a season-high 24 points, and Kerry Kittles scored 18 and helped forced overtime with a three-pointer and a blocked shot in the final minute of regulation.
Heat 100, Hawks 97
Atlanta -- Dwyane Wade made a go-ahead runner over Bob Sura to cap a frantic comeback in the final minute, and Miami held off Atlanta. The victory propelled the Heat into a tie with the Milwaukee Bucks for fifth in the Eastern Conference. The Bucks lost to the Indiana Pacers 111-78. Eddie Jones had 23 points and Lamar Odom added 21 before fouling out for Miami, which won for the ninth time in the past 10 games. Wade finished with 10.
T'wolves 90, Sonics 83
Minneapolis -- Latrell Sprewell had 27 points, including six three-pointers, to help Minnesota hold off Seattle. Kevin Garnett had 27 points, 10 rebounds and seven assists for Minnesota. Vitaly Potapenko had 18 points and nine rebounds and Rashard Lewis had 17 points for Seattle.
Spurs 107, Kings 89
San Antonio -- Manu Ginobili scored 15 of his game-high 29 points in the fourth period, and San Antonio kept its hopes for a division title alive by beating Western Conference-leading Sacramento. Ginobili, who had only six points in the first half, made all three of his shots in the third and his first six shots of the fourth.
Pistons 108, Clippers 99
Auburn Hills, Mich. -- Richard Hamilton had 28 points and a career-high five steals, and Detroit defeated Los Angeles.
Copyright 2018 The Associated Press. All rights reserved. This material may not be published, broadcast, rewritten or redistributed. We strive to uphold our values for every story published.