NABLUS, West Bank — Islamic militants tried to recruit a 15-year-old as a suicide bomber, at one point locking him in a dark room, but also luring him with clothes, a cell phone and promises of paradise, his family said Tuesday.
The story of ninth-grader Tamer Khweirah, who was rescued by an alert older brother, underscores the growing use of children by militant groups and has stoked debate about what is permissible in the fight against Israel.
Tamer is one of four teens arrested by the Israeli military in Nablus in the past week on suspicion they were recruited by militants. One of them, Hussam Abdo, 16, was caught at an Israeli checkpoint with 18 pounds of explosives strapped to his body.
The youths, who all remain in custody, knew one another, relatives told The Associated Press. Tamer, Hussam and a third youngster attended the same high school.
The Israeli military said Palestinian militants were increasingly targeting youngsters, in part because they arouse less suspicion at Israeli checkpoints.
The use of youngsters has drawn criticism from some Palestinian intellectuals and educators, who said the militants were harming the Palestinian cause.
The Al Ayyam daily, which often reflects the views of the Palestinian Authority, ran a story Tuesday on Tamer, including his parents' demand that the recruiters be prosecuted. Palestinian security officials said their forces had become so ineffective, largely because of Israeli restrictions, that they could not rein in the militants.
Targeted by militants
Tamer was approached by the Islamic Jihad group at a Nablus mosque last week, after Israel assassinated Hamas founder Sheik Ahmed Yassin, said the boy's 26-year-old brother, Raed Khweirah.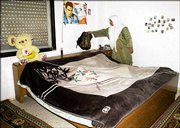 In the mosque, Tamer and other worshippers were expressing their anger about the assassination, and a 19-year-old Islamic Jihad activist asked the youth whether he wanted to meet a religious leader, or sheik, from the group, Raed Khweirah said his brother told him.
Gateway to paradise
Tamer was taken to a home in Nablus' old city, where he met the sheik, who introduced himself only as Ibrahim, Khweirah said. In the first session, the sheik spoke to Tamer about the need to avenge Yassin, whose group Israel blames for suicide bombings that have killed hundreds of Israelis.
In a second encounter, the sheik tried to persuade Tamer to carry out a suicide bombing. He locked Tamer in a dark room for a while, then took him to a well-lit room, saying this illustrated the difference between eternal damnation and paradise.
Paradise and 72 virgins are assured for any bomber, the sheik told Tamer, who is from a well-to-do family and had a sheltered upbringing.
When the youngster expressed concern that his family home would be demolished -- standard Israeli reprisal -- the sheik said Islamic Jihad would pay $35,000 to make up for the loss.
When the boy protested that he'd like to be around for the weddings of his two sisters, the sheik told him, "you will go to paradise and meet them there," according to the older brother.
Cell phone bribe
Islamic Jihad members gave Tamer about $45, a cell phone, new jeans and a new shirt, his brother said.
Khweirah said he became concerned about his brother when he skipped school twice last week and was seen loitering downtown, smoking and talking on a cell phone.
Khweirah said he sought help from the Al Aqsa Martyrs' Brigades, an armed group with ties to Yasser Arafat's Fatah movement.
Al Aqsa itself has carried out suicide bombings, and its militants say they have no qualms about recruiting teens, provided they understand their missions. Still, Khweirah hoped they would agree his brother was not an appropriate candidate.
Teen tells family
Later that day, a tearful Tamer returned home and confessed to his family, his brother said.
Hashem Abu Hamdan, an Al Aqsa leader in Nablus wanted by Israel, said he was involved in getting Tamer home but gave no further details.
Abu Hamdan said Hussam Abdo, last week's would-be suicide bomber, and his friends acted on their initiative and were not dispatched by Al Aqsa. "They were looking for an explosives vest, and they could find it easily in Nablus," Abu Hamdan said.
Tamer was arrested by Israeli soldiers at his home Friday. Feingold said Hussam, Tamer and the other two youngsters are still being questioned by the Shin Bet security service, which turned down requests by The Associated Press to interview Tamer.
Copyright 2018 The Associated Press. All rights reserved. This material may not be published, broadcast, rewritten or redistributed. We strive to uphold our values for every story published.