Ian Handshy didn't ask for the title. Rather, it was just thrust upon him thanks to his work ethic and natural ability to blaze down a track.
With Chris Fulton, the Lawrence High track and field team's super sprinter of a year ago, gone to graduation after setting school records in the 100- (10.59 seconds) and 200- (21.29) meter dashes, Handshy has assumed the role as the fastest man at Lawrence High.
It's surprising when you catch a glimpse of Handshy.
He stands 6-foot-2 and is 200 pounds of muscle, yet has run the 100 as fast as 11.05 seconds. At Lawrence High's dual with Leavenworth Wednesday at LHS, Handshy placed second with a time of 11.26.
"He works hard in the weight room," LHS track coach Jerry Skakal said. "He has a good attitude and good self-confidence. He's a real pleasure to be around."
As far as sprints go, Handshy's not at the elite status of Fulton -- not many are -- but he is a rare specimen whose strength, size and speed combine to make him an elite athlete in his own right.
Despite his success on the track, Handshy's number one sport is football. This spring, he's joining a large number of his gridiron teammates on the track, at the urging of LHS football coach Dirk Wedd. For big invitationals and out-of-town meets, the boys generally stick with what they're good at. In a relaxed home dual with little to no implications like Wednesday, several of them, fast or slow, big or small, run the 100 meter dash.
"We had 29 kids run the 100 today," Skakal said. "It's fun for them. They kind of get out together in a heat and say, 'Let's race each other.' They're not going to beat anybody, so they might as well beat themselves."
Handshy, though, is one of the exceptions. His all-around athleticism has raised the eyebrows of several Division One football coaches based on potential alone. He runs a 4.6 second 40-yard dash, power cleans 280 pounds and squats 400 pounds. He scored nine touchdowns last fall on the football field as a running back, averaging a team-best 8.4 yards per carry. And, of course, an 11-second 100-yard dash on the track isn't too shabby, either.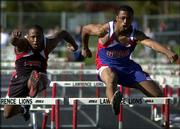 Handshy, a junior, plays basketball in the winter, too, making sure there is no off-season for him.
"I like to compete for my school," Handshy said. "I feel like I have an obligation to."
Handshy also placed third in the 200-meter dash against Leavenworth, and was the anchor on Lawrence's 4x100 meter relay team that won in a time of 45.72 seconds.
Among other LHS highlights Wednesday:
l Sophomore Scott Penny finished first in the shot put, throwing an impressive 50 feet, 2 inches. Senior Nathan Lindsey took second at 45-8.
l Senior Sylvester Birdsong won both high jump (6-2) and long jump (19-3), and placed second in the 110 meter hurdles (15.50).
l Junior Alison Greer took first in the 3,200 meter run with a time of 13:23.75. Senior Erin Knight won the javelin, throwing 112-4.
"The purpose of a dual like this is to get times and distances on all your kids," Skakal said. "It's a great opportunity to put kids in a competitive situation."
Lawrence will compete next at the Topeka High Relays April 9.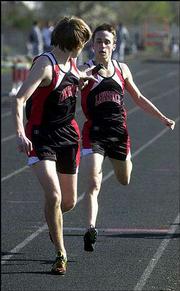 Copyright 2018 The Lawrence Journal-World. All rights reserved. This material may not be published, broadcast, rewritten or redistributed. We strive to uphold our values for every story published.