Surprise, Ariz. — Brian Anderson was in complete control -- until the fifth inning.
Kansas City's opening-day starter threw four scoreless innings before the San Francisco Giants tagged him for five runs in the fifth and beat the Royals, 6-5, Wednesday.
Anderson allowed only two singles and faced just one batter over the minimum in the first four innings. But Tony Torcato hit a three-run homer in the fifth for the Giants, and former Royal Michael Tucker added a two-run double.
Anderson also gave up a solo homer in the sixth to Yorvit Torrealba, who went 3-for-3.
"Anderson threw well for four innings, and it looked like the heat got to him," Royals manager Tony Pena said. "He got tired a little bit. He elevated a couple of balls, and he paid for them.
"Other than that, he threw the ball well. I was pleased."
Anderson allowed 10 hits and six runs in six innings, striking out four and walking none. In five spring-training appearances, he has given up 15 runs and 27 hits in 20 innings.
The Royals staked him to a 2-0 lead in the third, which included triples by Aaron Guiel and Desi Relaford.
Mike Sweeney hit a two-run double in the fifth to pull the Royals within one.
Ken Harvey's sacrifice fly scored Jed Hansen in the seventh with the final K.C. run.
Ryan Jensen got the victory, allowing two runs and three hits. After the game, the Giants designated him for assignment.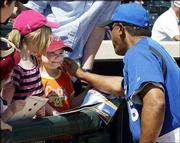 Copyright 2018 The Associated Press. All rights reserved. This material may not be published, broadcast, rewritten or redistributed. We strive to uphold our values for every story published.