Washington — The most damaging sign of the 2004 campaign will probably not contain the words Kerry or Bush, but the latest spikes in the price of gasoline.
Although higher energy prices by themselves usually do not make or break presidential campaigns, they often become important for what they symbolize -- and President Bush could be facing some troublesome symbolism, experts said Wednesday.
"Energy prices go into the mix of what causes economic tension and angst," said Carroll Doherty, editor of the Pew Research Center.
The announcement by OPEC on Wednesday, reaffirming a 4 percent cut in its production target, is expected to drive up crude prices. It could translate politically into a public perception that higher oil prices, as well as already-climbing natural gas and other energy prices, are part of the reason for job losses, other economic ills and U.S. foreign policy missteps.
"The president obviously feels vulnerable on this," said Josh Busby, a research fellow and energy expert at Washington's Brookings Institution. "They feel if prices go much higher, the electorate will start blaming them."
As retail gasoline prices average about $1.80 a gallon nationwide, with higher prices in California and other states, the White House has launched a vigorous offensive, among other things blaming the cost of making gasoline that conforms to environmental standards.
It's also tagged John Kerry, the likely Democratic Party nominee for president, as someone whose views would mean even higher prices.
Engaging the public on this issue will be tough, however. Bush and Kerry have to find solutions that will not only rivet worried voters, but have nationwide appeal.
"There are an awful lot of different constituencies concerned about pieces of this issue," said Busby, and historically, it's been hard to get them together.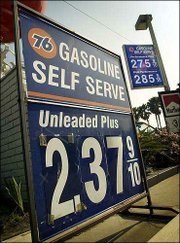 That's why Congress' energy bill, which Bush once called a priority of his administration, has been stalled since almost the day he proposed it three years ago.
The original energy bill was a $31 billion grab bag. The Senate might now consider a $14 billion version that removes many of the bill's more controversial features, but some of the same knots keep reappearing, like drilling in environmentally sensitive areas.
But thorniest is the MTBE issue, which many blame -- or credit -- for stalling the bill in the House. The gasoline additive, which is believed to pollute groundwater, has strong backers in House Majority Leader Tom DeLay, R-Texas, who wants makers of MTBE shielded from liability suits. The Senate version takes out the MTBE exemption.
There are other powerful constituencies -- those worried about electricity shortages, which are already hitting California; higher natural gas prices; more incentives for conservation -- facing powerful constituencies on the opposite side.
"We have a serious problem, and it is not just the current spike in gas prices," said Senate Democratic Policy Committee Chairman Byron Dorgan, D-N.D. "That happens."
What should be emphasized, said Dorgan, is that "if we want to keep importing oil from Iraq, Saudi Arabia, Kuwait, Venezuela and other parts of the world, the fact is that it will injure us inevitably, it will injure our economy and it will injure our opportunity to create new jobs."
l OPEC decision goes into effect today. Page 1D.
Copyright 2018 The Lawrence Journal-World. All rights reserved. This material may not be published, broadcast, rewritten or redistributed. We strive to uphold our values for every story published.