After five years of planning, construction and waiting, the Student Recreation Fitness Center at Kansas University opened Monday.
It wasn't a moment too soon for students who worked out there on opening day, enjoying the center's space and windows -- both big improvements over the building it replaced.
"Robinson (Center) was so cramped," said Jenn Gray-O'Connor, a graduate student and fitness instructor. "It felt like you were in a cave."
Now, thanks to $17 million in student fees, Gray-O'Connor and other KU students, faculty and alumni who attended from fall 1998 through summer 2003, can use the center for free.
The 98,000-square-foot building offers amenities ranging from standard workout gear to a 42-foot climbing wall and suspended track above a basketball court. The building initially was set to open around the end of July, but a series of construction delays slowed completion.
The center remains partially complete, with the basketball court and other workout areas still under construction for the next couple of weeks.
For many students, the delays made Monday's opening bittersweet.
"I kind of want the rest of the facility to get finished," said Keith Guertin, a Tulsa, Okla., senior. "I bet there will be a lot of fun pick-up basketball games."
Though finishing touches remain, Kristin Saunders, facilities assistant, said students were enjoying their opening-day experience.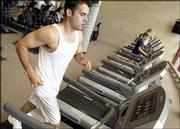 "Everybody seems to be really impressed with the three-floor climbing wall," said Saunders, a St. Louis sophomore.
The recreation center is open from 6 a.m. to midnight Monday through Friday; from 10 a.m. to 10 p.m. Saturday; and from 10 a.m. to midnight Sunday, which helps keep it competitive with other facilities in the city.
Guertin said his Lawrence Athletic Club membership expired at the end of next month and he wanted to wait to see how crowded the KU center was before canceling his membership at the private club.
The owner of Lawrence Athletic Club was not available for comment.
"I like it here (at the KU center), but it's going to get annoying if it gets crowded," Guertin said.
Lorinda Hartzler, owner of Body Boutique, 925 Iowa, said she didn't think the new facility would affect her business, which caters to women who don't want to work out with men.
"We think it (the KU center) is great," Hartzler said. "KU needs a nice center. Robinson was just not adequate for students."
Previously, students used Robinson Center as their primary workout facility. The university built Robinson in 1966 and completed an addition on the building in 1980.
Copyright 2018 The Lawrence Journal-World. All rights reserved. This material may not be published, broadcast, rewritten or redistributed. We strive to uphold our values for every story published.